ANDREI CERVANTES
HUMAN-CENTERED LEADER TYPE
IN OTHER WORLDS:
DESIGN DIRECTORDESIGN CONSULTANTDESIGN STRATEGISTDIRECTOR OF EXPERIENCE DESIGNHEAD OF DESIGN STRATEGYHEAD OF EXPERIENCEDESIGN THINKING LEADDESIGN ADOPTION LEAD
Through design principles, I establish the conditions for and lead teams toward outcomes of compelling value, in a rapid and low-risk manner. Keep going to understand the different roles I serve to be able to do so.
THE QUESTION
How might we cohesively transform the way sellers engage with clients?
THE DISCOVERY
Eleven siloed global teams with the same goal, working on ~100 overlapping, even contradicting work streams.
THE APPROACH
Created, rapidly iterated on and delivered a highly custom, first-of-its-kind workshop that captured each team's human-centered objectives, outlined all supporting mechanisms, normalized mechanisms for apples-to-apples comparison, grouped mechanisms by user and intent, identified opportunities for collaboration or omission, roadmapped an actionable and unified plan.
THE OUTCOME
Eleven teams, apart but together, delivering a cohesive transformation experience to sellers all over the world. Secondarily, the success of this effort has led to repeated reuse of the aforementioned workshop, to solve complex misalignment across IBM's global teams.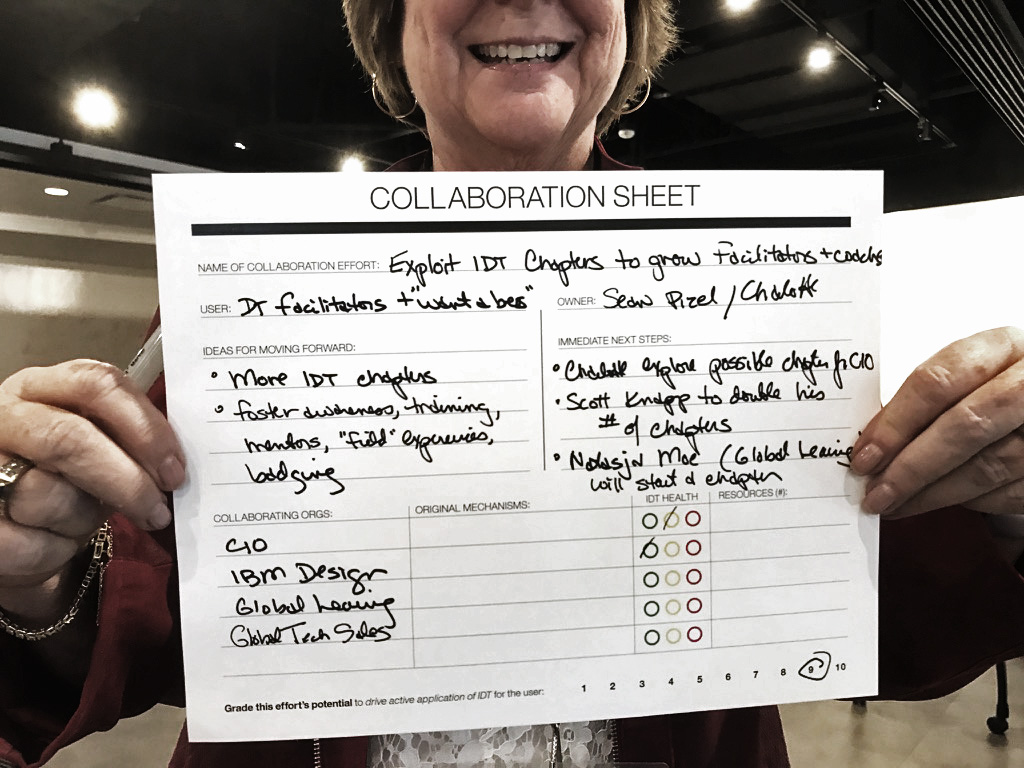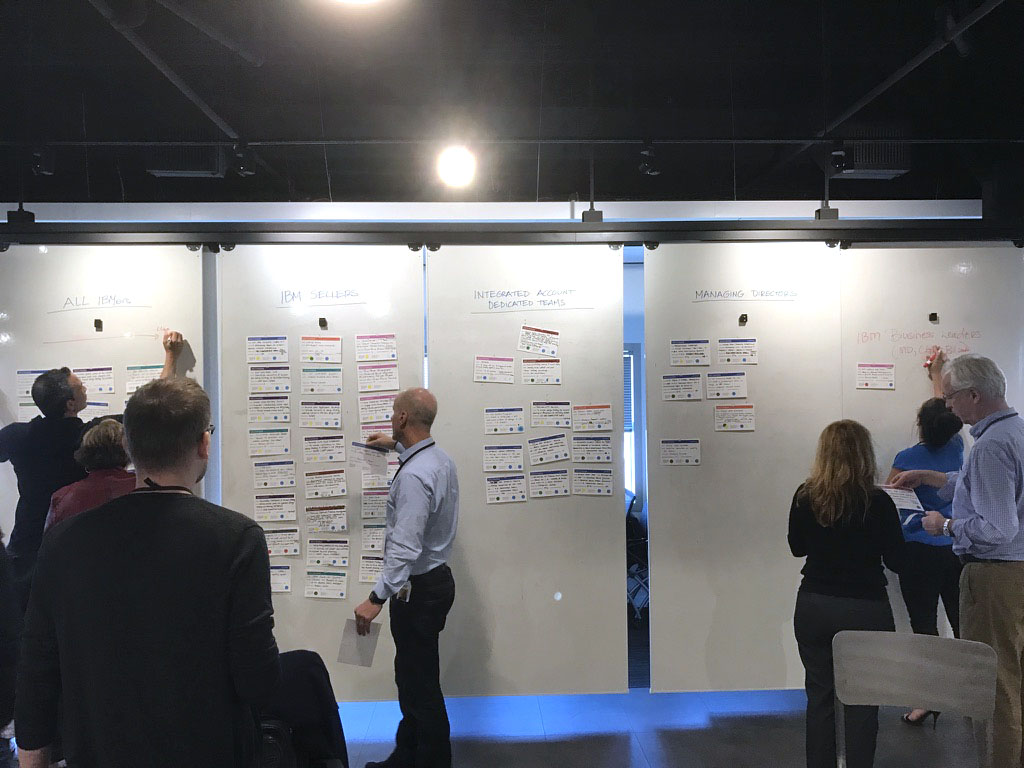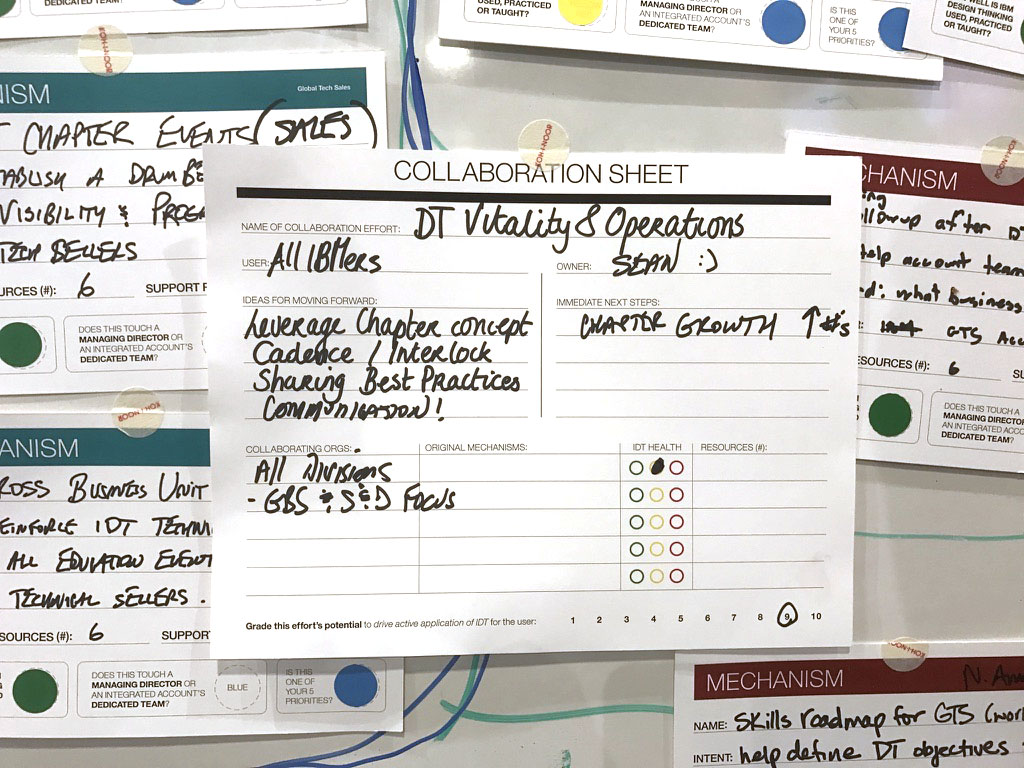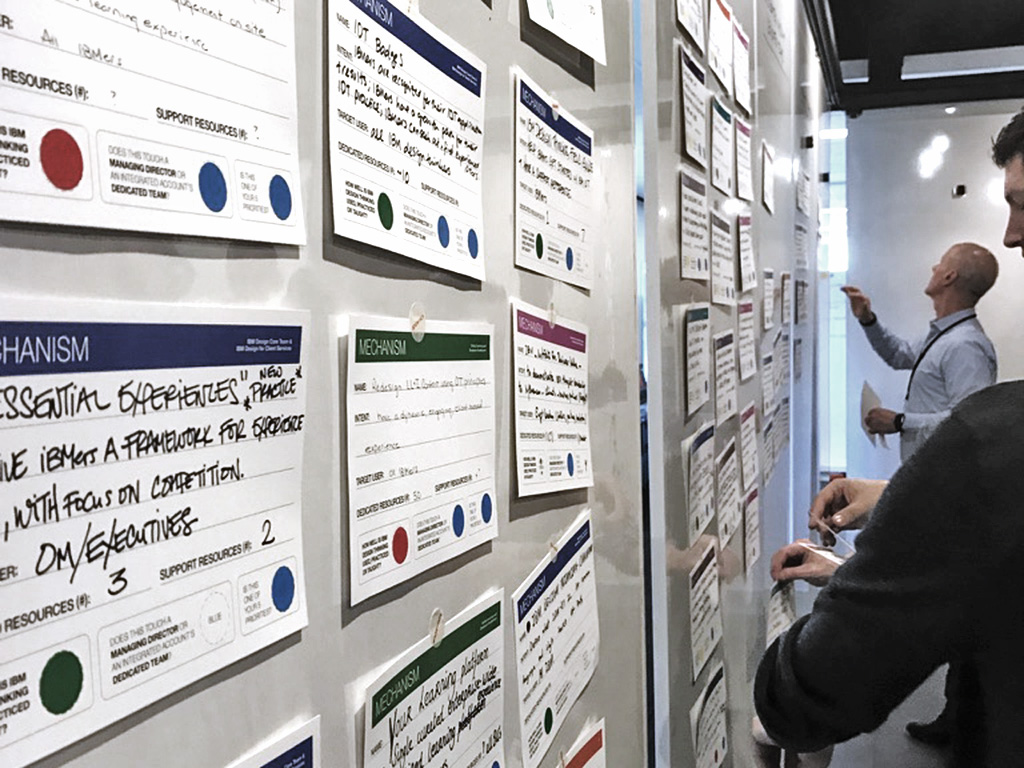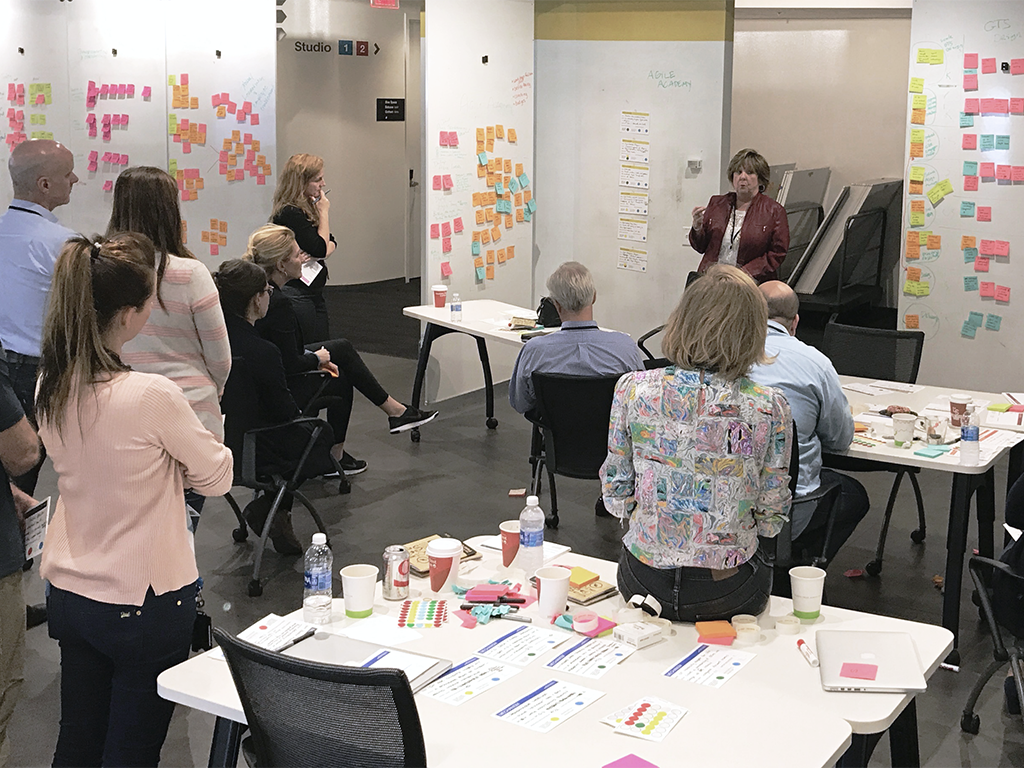 THE QUESTION
How might we get IBMers and clients up to speed on the new go-to-market messaging around automation?
THE DISCOVERY
On one hand, a go-to-market message that was unclear, largely unspoken, purely theoretical, lacked buy-in, and completely unready for adoption. On the other, a highly expansive, fractured and political automation ecosystem that reeked of systemic misalignment and a deeply divergent language, both spoken and seen.
THE APPROACH
United all relevant strategy teams around a shared goal of crafting a clear, unique and differentiating automation language that resonated with clients and compelled them to act. Worked with all 7 geo teams to understand the state of their local go-to-market messaging, the aspirations of their clients, the directional winds of their markets. Canvassed automation POVs of analysts, the competition, and leadership.
THE OUTCOME
From many and divergent to a single, unified and endorsed language that repositioned automation from a tool that merely improved tasks to a catalyst for reinvention — driving greater impact, larger scopes of work, bigger deals. Add to that an automation-tailored visual expression that helped operationalize the language. Both adopted globally via in-person bootcamps for geo champions and a microlearning digital experience for scale.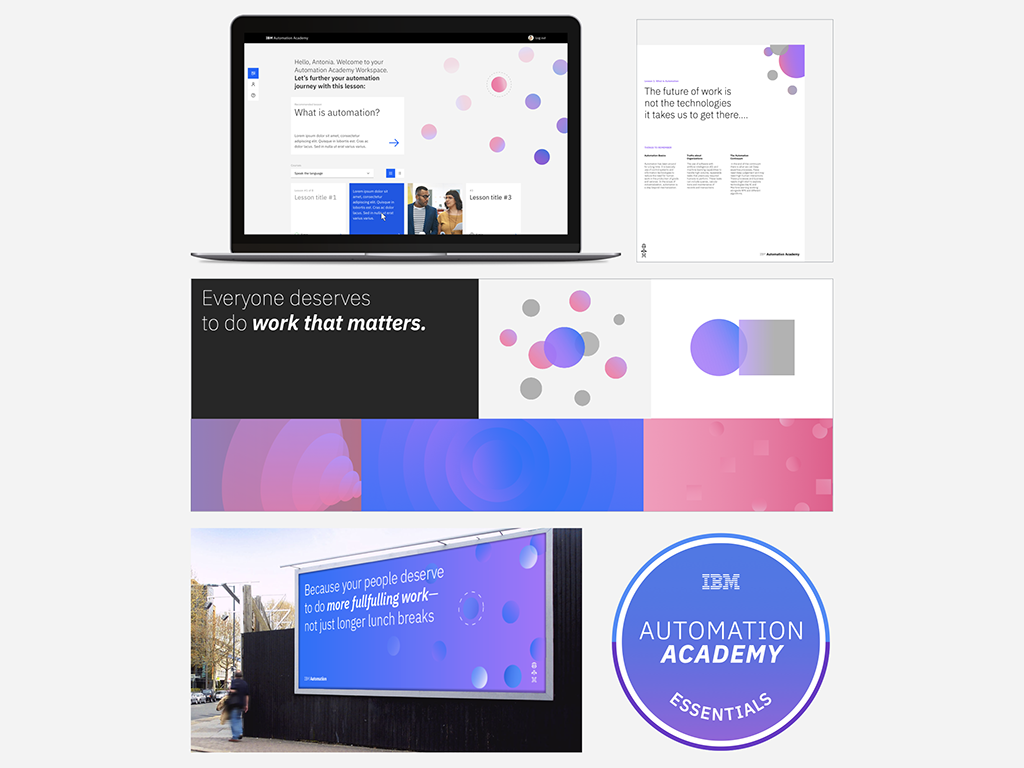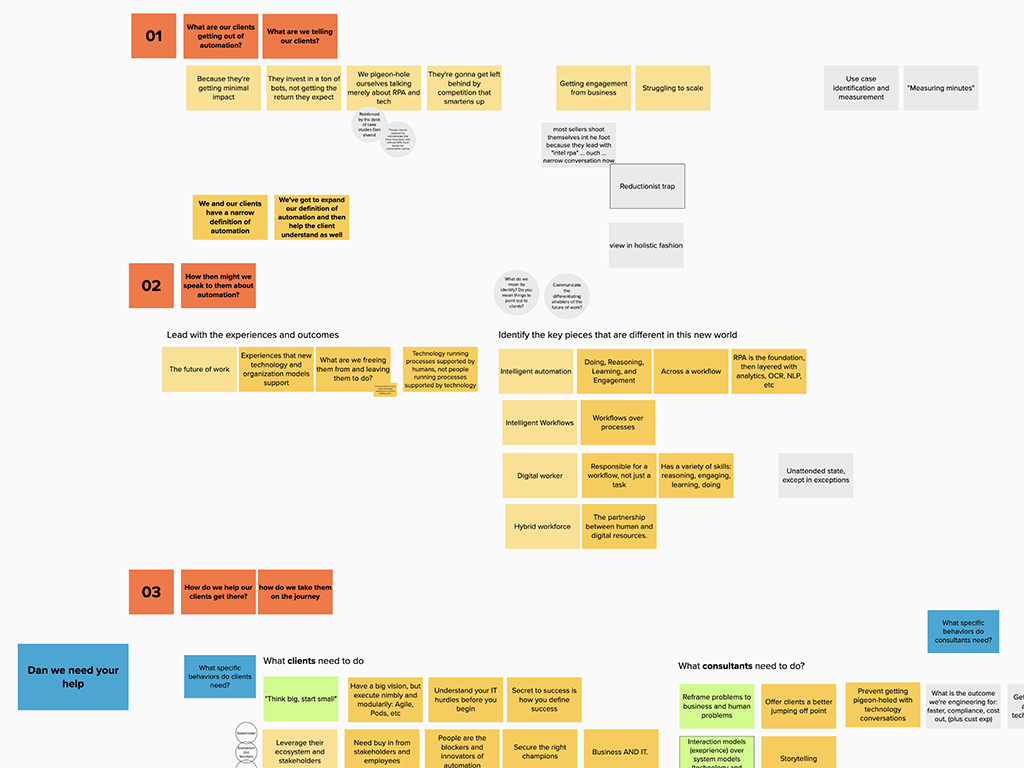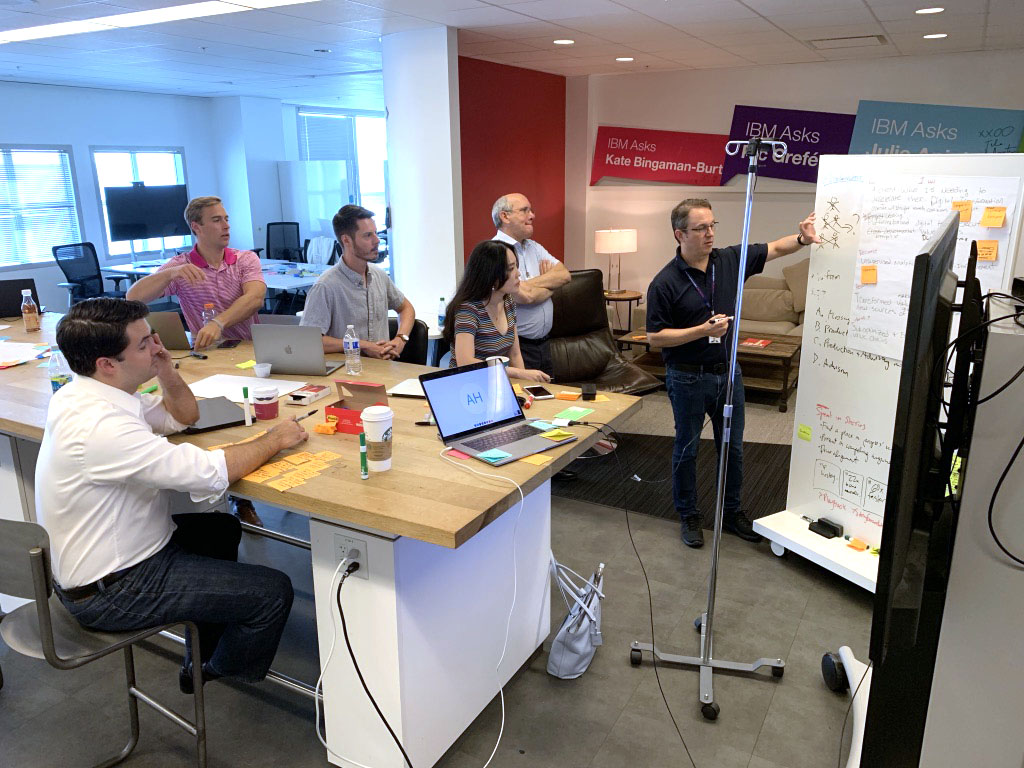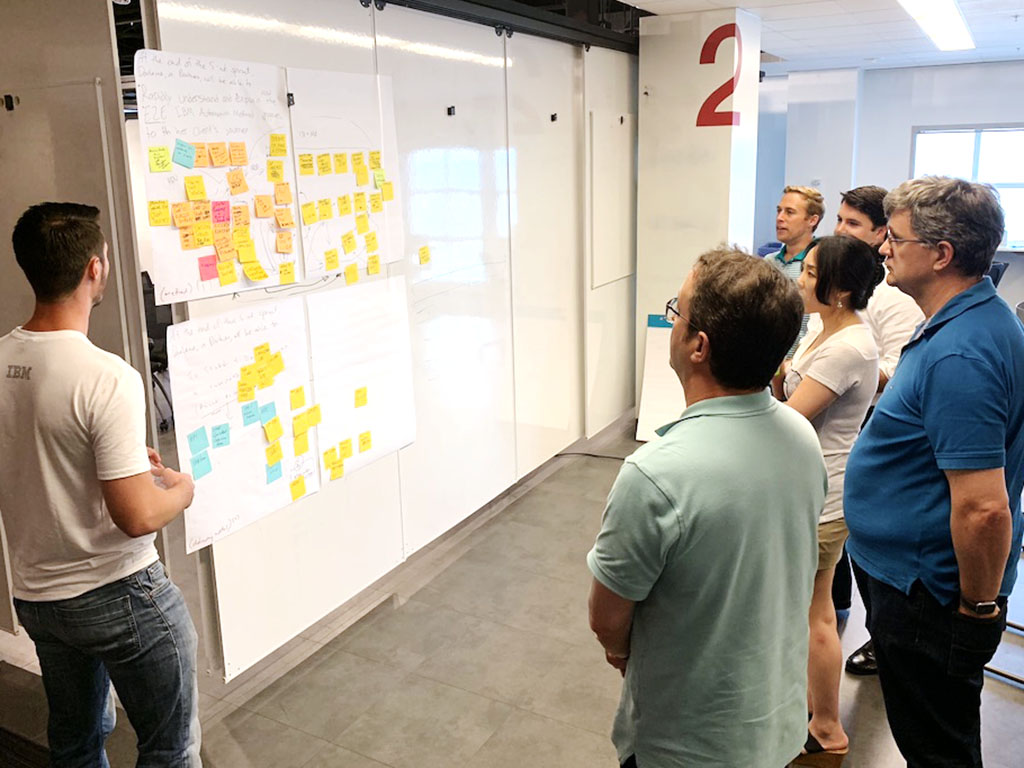 THE QUESTION
Why isn't the IBM Way sticking?
THE DISCOVERY
All six orgs tasked with reinventing the mindset and behavior of the company's entire workforce (the IBM Way) were scattered, disjointed, siloed, contradictory and, at times, disinterested in the complexity of a united effort.
THE APPROACH
For each org, performed comprehensive research on their human-centered objectives, their compliance with the principles of the IBM Way, their work streams, the sprawling ecosystem of people required to do their work, the pains, gaps, barriers that prevented a cohesive effort.
THE OUTCOME
An empathetic and shared understanding of their wayward ways — from brand compliance and content integration to enablement methods and program integration — and how these collectively and negatively impacted the duty they were all charged with. Shared goals, shared mess. This led to an actionable and prioritized plan to resolve their misalignment and sustain their victories.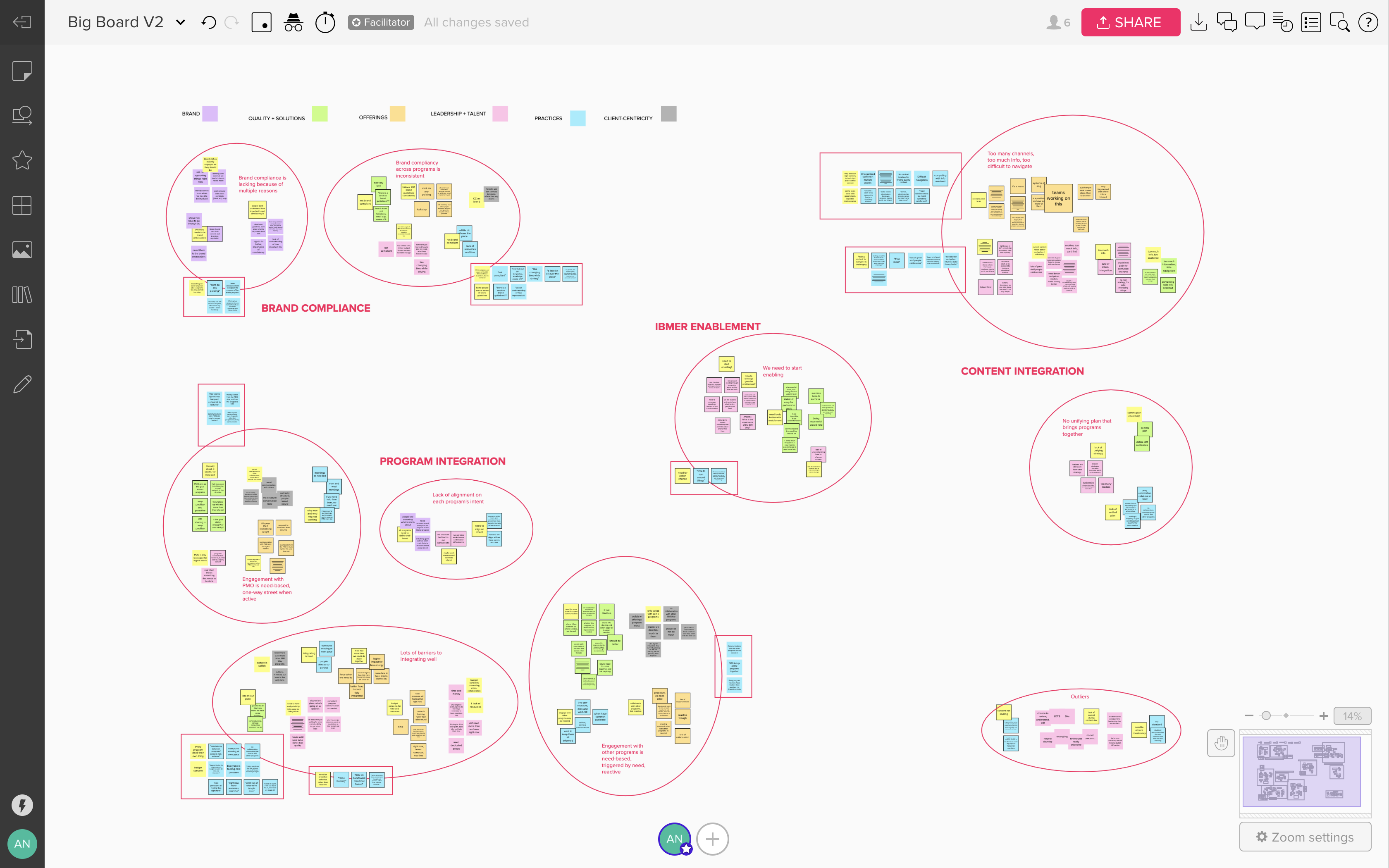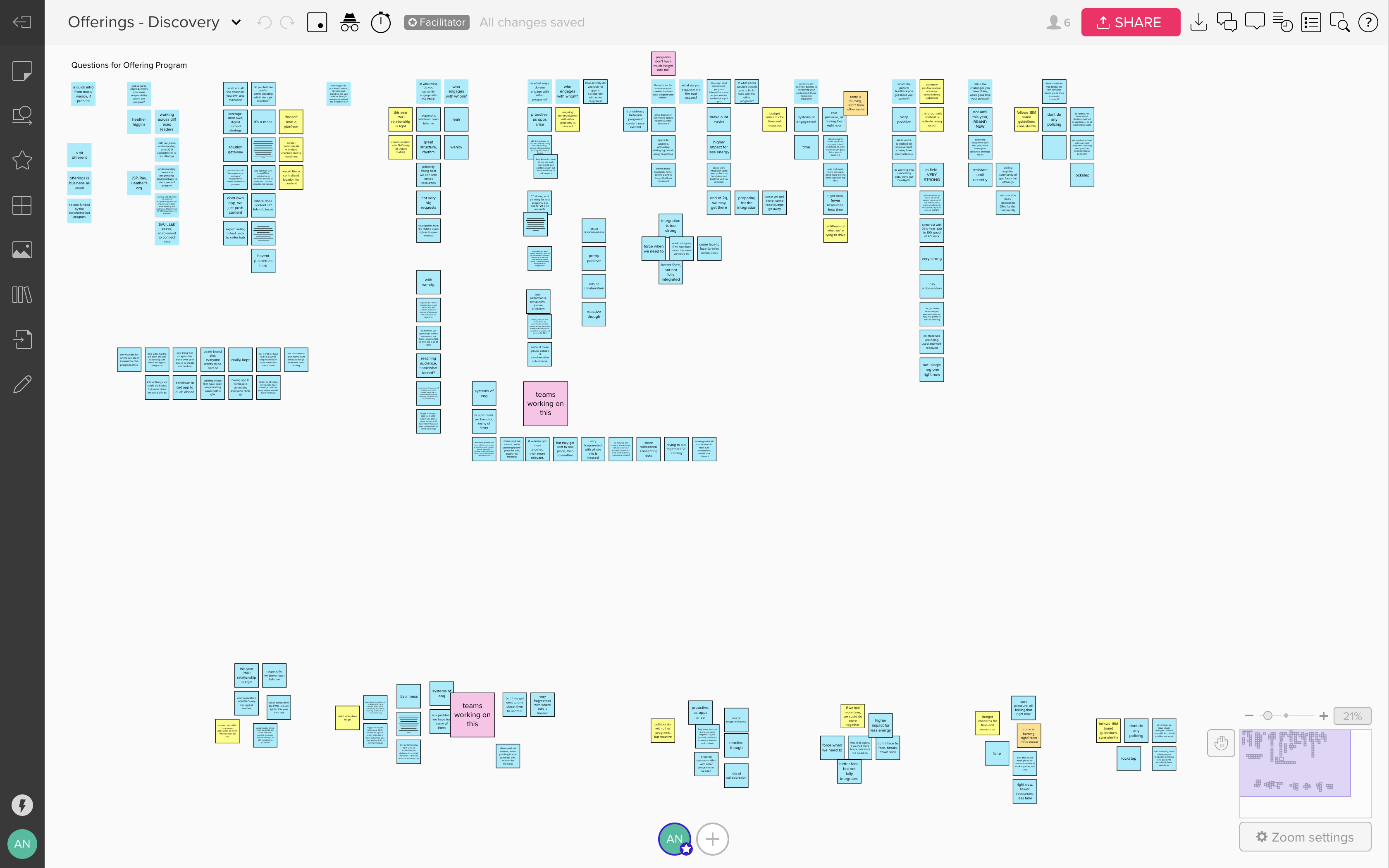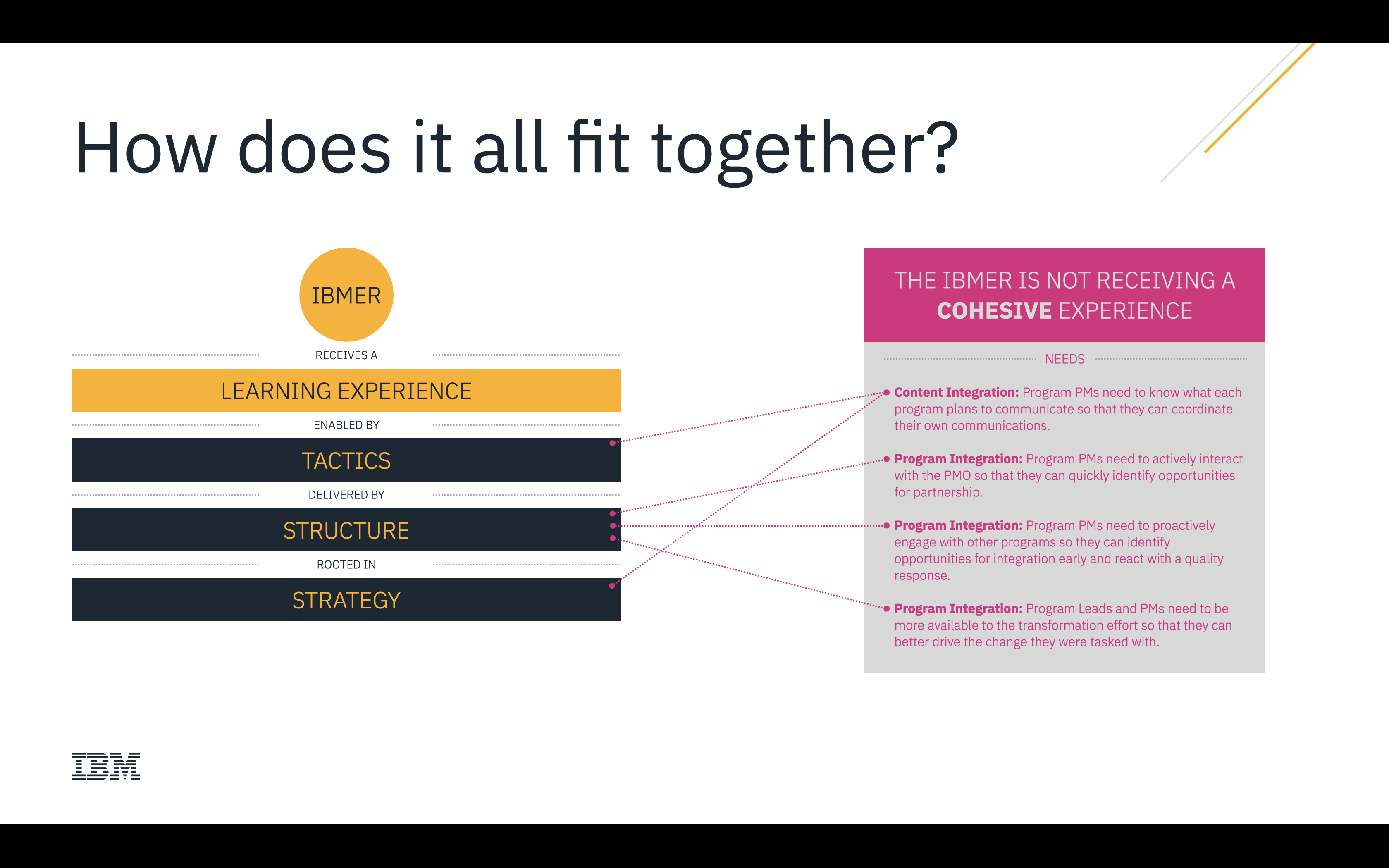 THE QUESTION
How might we help sellers easily navigate clients' automation efforts toward reinvention?
THE DISCOVERY
Shifting the mindset and behavior around automation (catalyst for reinvention vs. tool for basic improvement) was always going to be a challenge. It's one thing to get them to understand, completely another to make them comfortable with changing their ways.
THE APPROACH
Identified common scenarios along a client's automation journey (needing help to execute an existing plan, failing in their attempt, seeking to build on small wins, looking wholly toward reinvention). Closely co-created with sellers and consultants intuitive ways to reroute clients, from each of those scenarios, toward reinvention.
THE OUTCOME
Empathetic, easy-to-understand, step-by-step toolkits to help sellers all over the world confidently, comfortably, independently, predictably guide their clients toward compelling reinvention.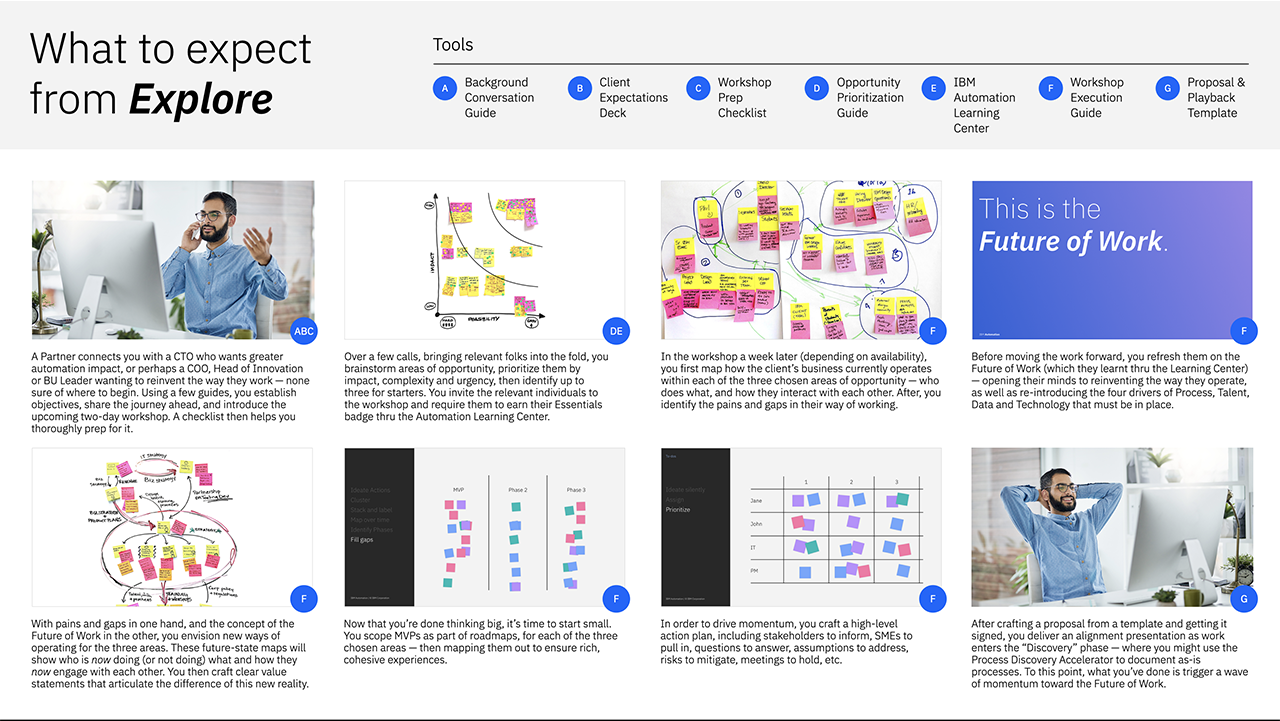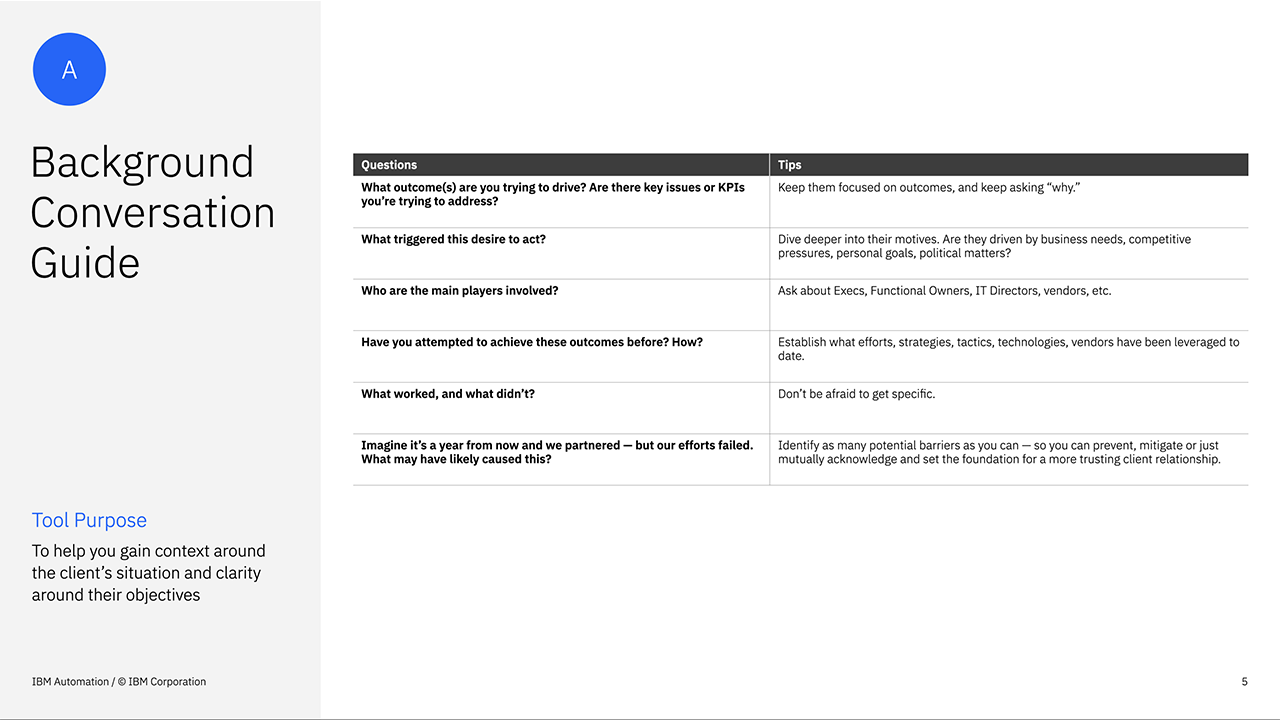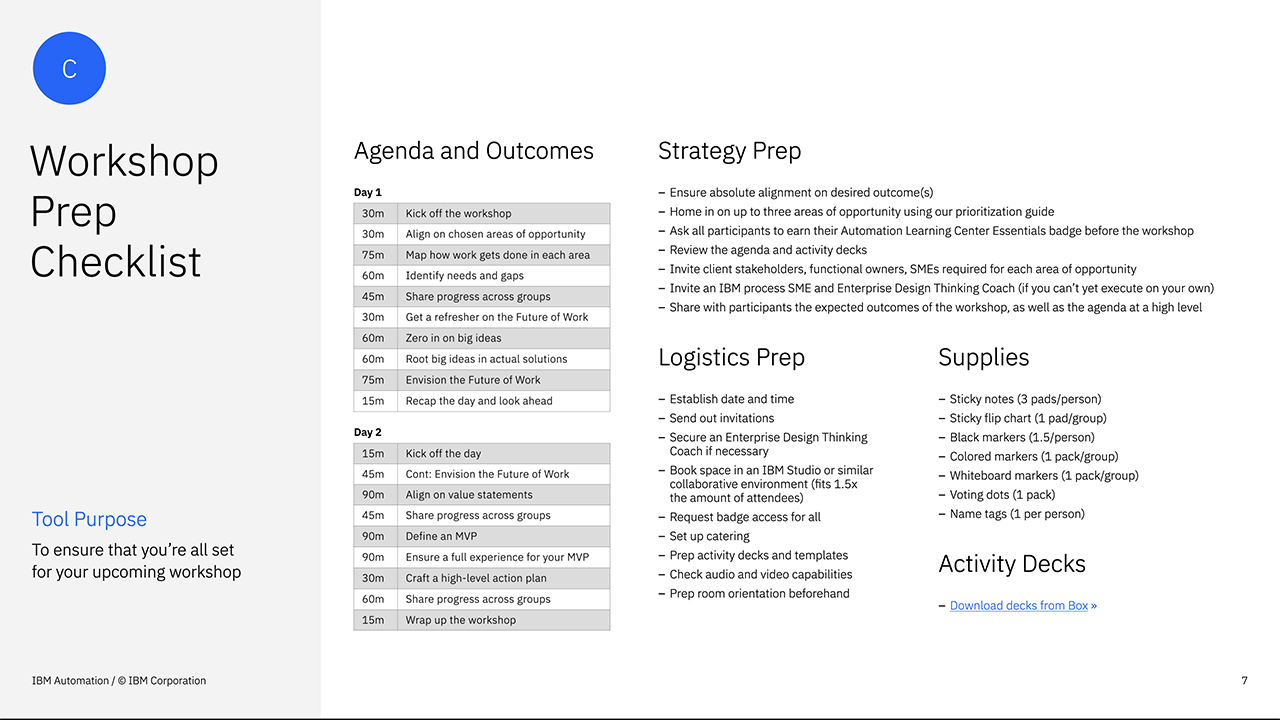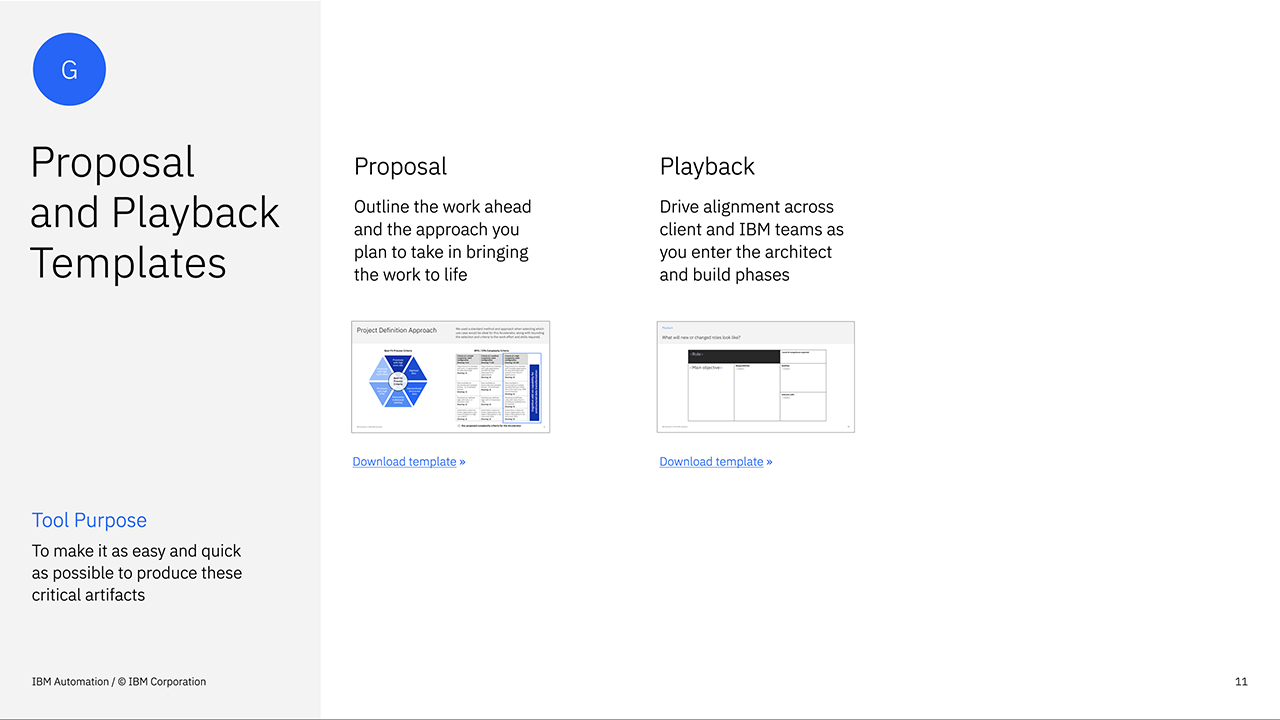 THE QUESTION
How might sellers accelerate progress during a client engagement?
THE DISCOVERY
Sellers would often find themselves stuck on client engagements, at the mercy of clients' lack of urgency, comfort, conviction, understanding, support — powerless to keep up momentum.
THE APPROACH
Identified key milestone moments along the client engagement. Empathized with all players involved during those moments. Established root causes for misalignment, paralysis, discomfort, dependency, confusion. Leveraged our deep expertise in using workshops to hasten outcomes.
THE OUTCOME
A range of packaged, outcome-specific workshops — including custom activities, tools, materials and techniques — that allows sellers to accelerate progress at key moments of a client engagement.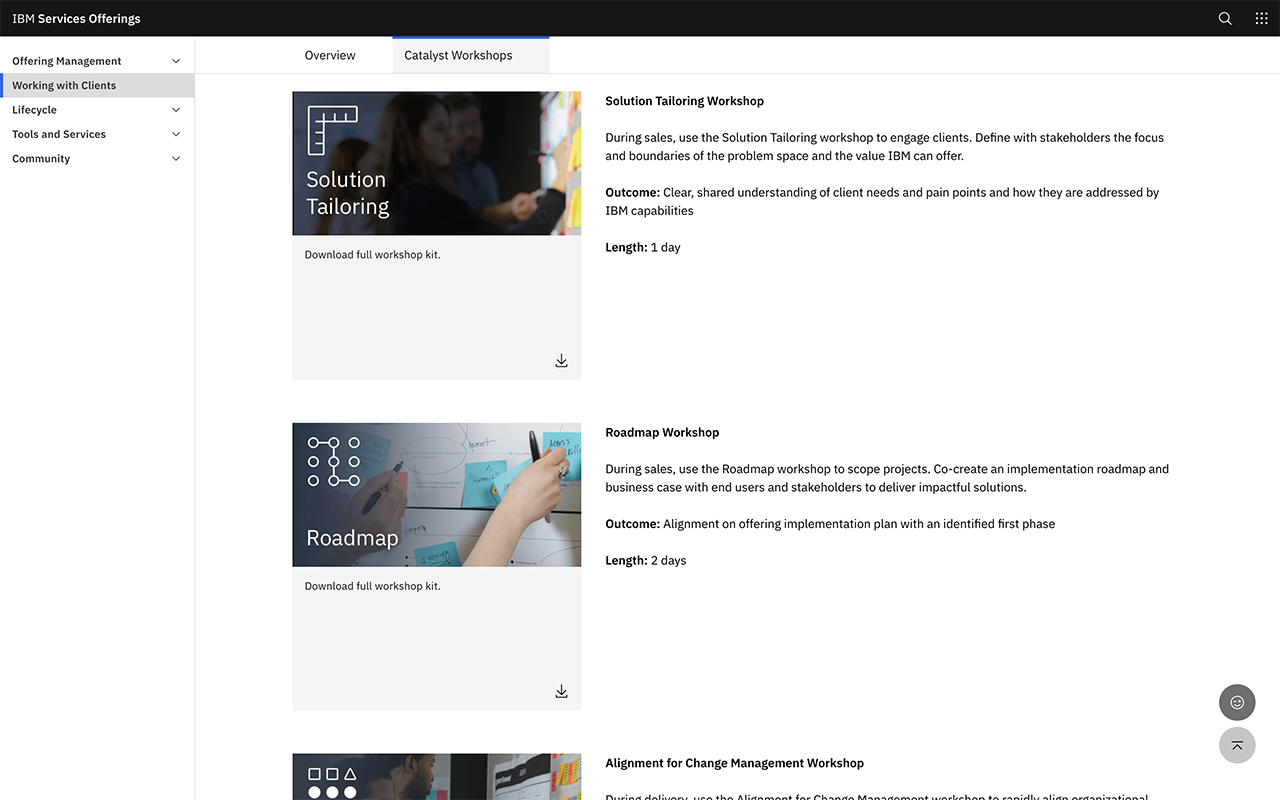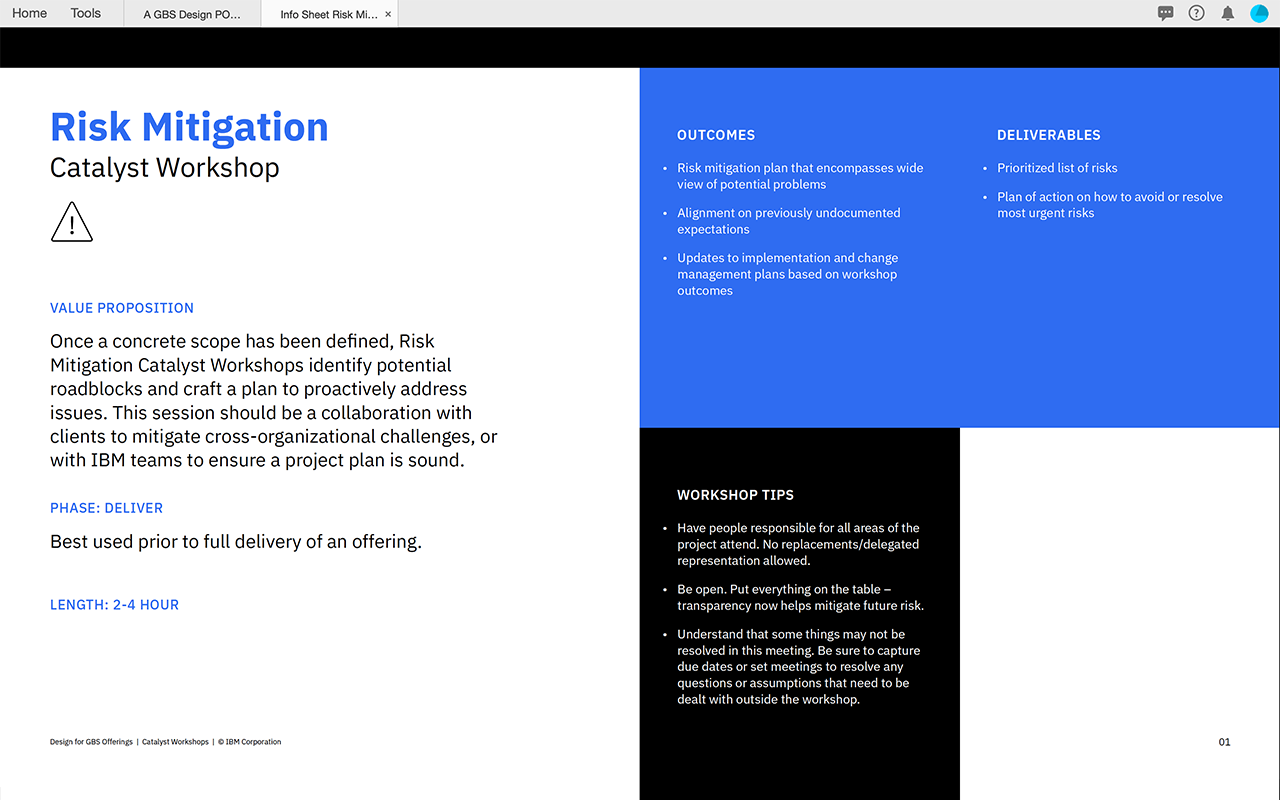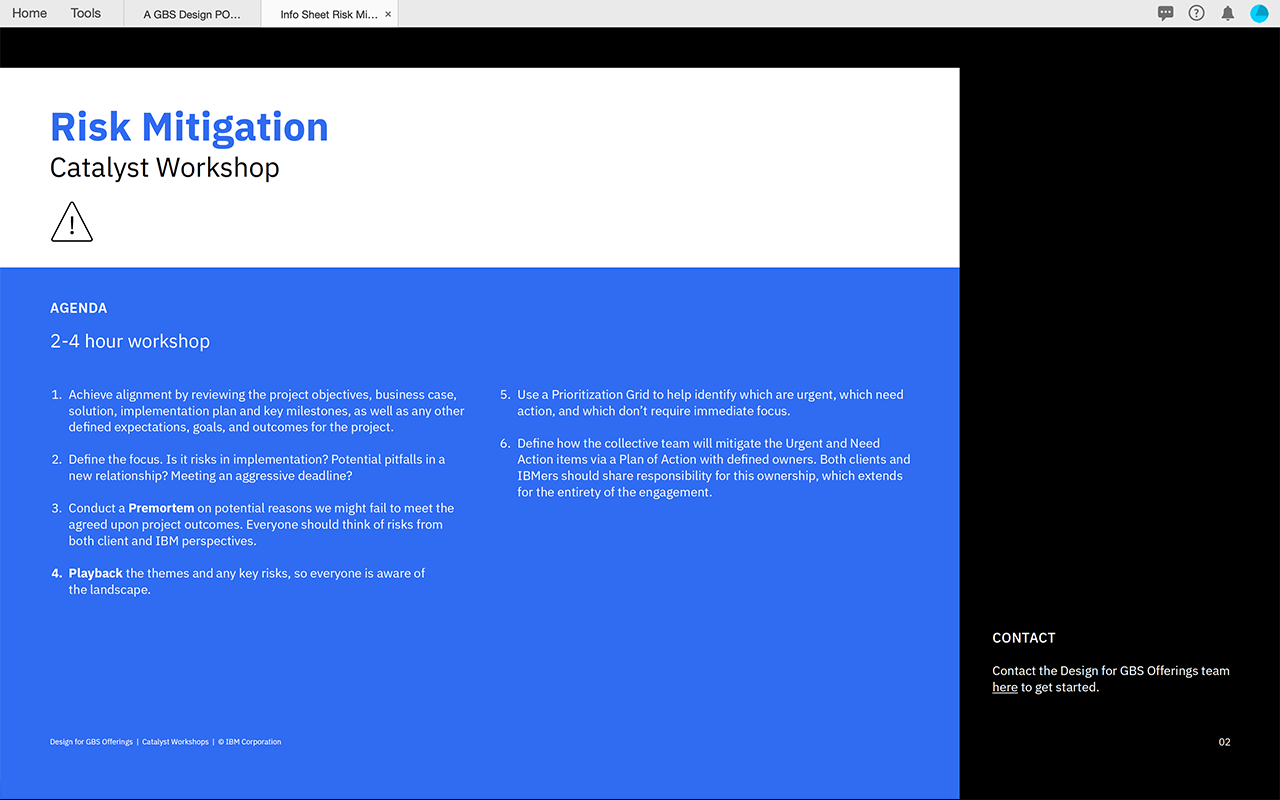 THE QUESTION
How might we provide consistent client engagement guidance, while offering specificity to IBM Offerings and keeping sellers responsive to their unique clients?
THE DISCOVERY
Though existing engagement models for IBM Offerings were extremely specific to the necessary outcomes, they were wildly different — meaning they were difficult to maintain and challenging to adopt for sellers moving from one Offering to the next.
THE APPROACH
Studied the most successful engagement models, extrapolated principles, identified key outcomes, rapidly prototyped a new instance, validated our work with offering managers, consultants and sellers, then further iterated.
THE OUTCOME
A modular base engagement model that allows Offering Managers to adapt for their specific Offering while following common standards, principles and cadences. Also permitting further customization for sellers, to accommodate unique client circumstances — again, while staying true to a common way of engaging and preventing any relearning as they move across Offerings.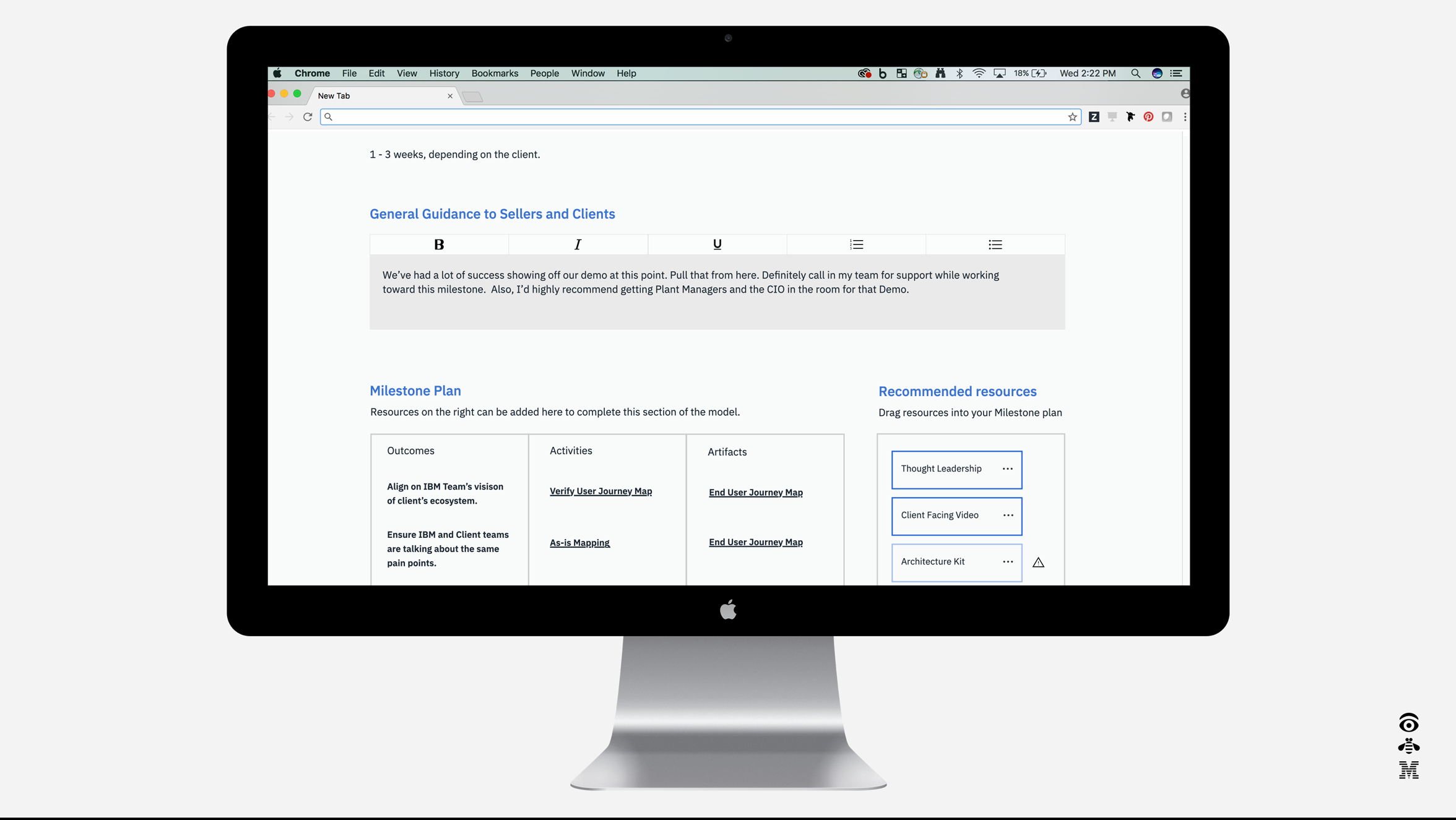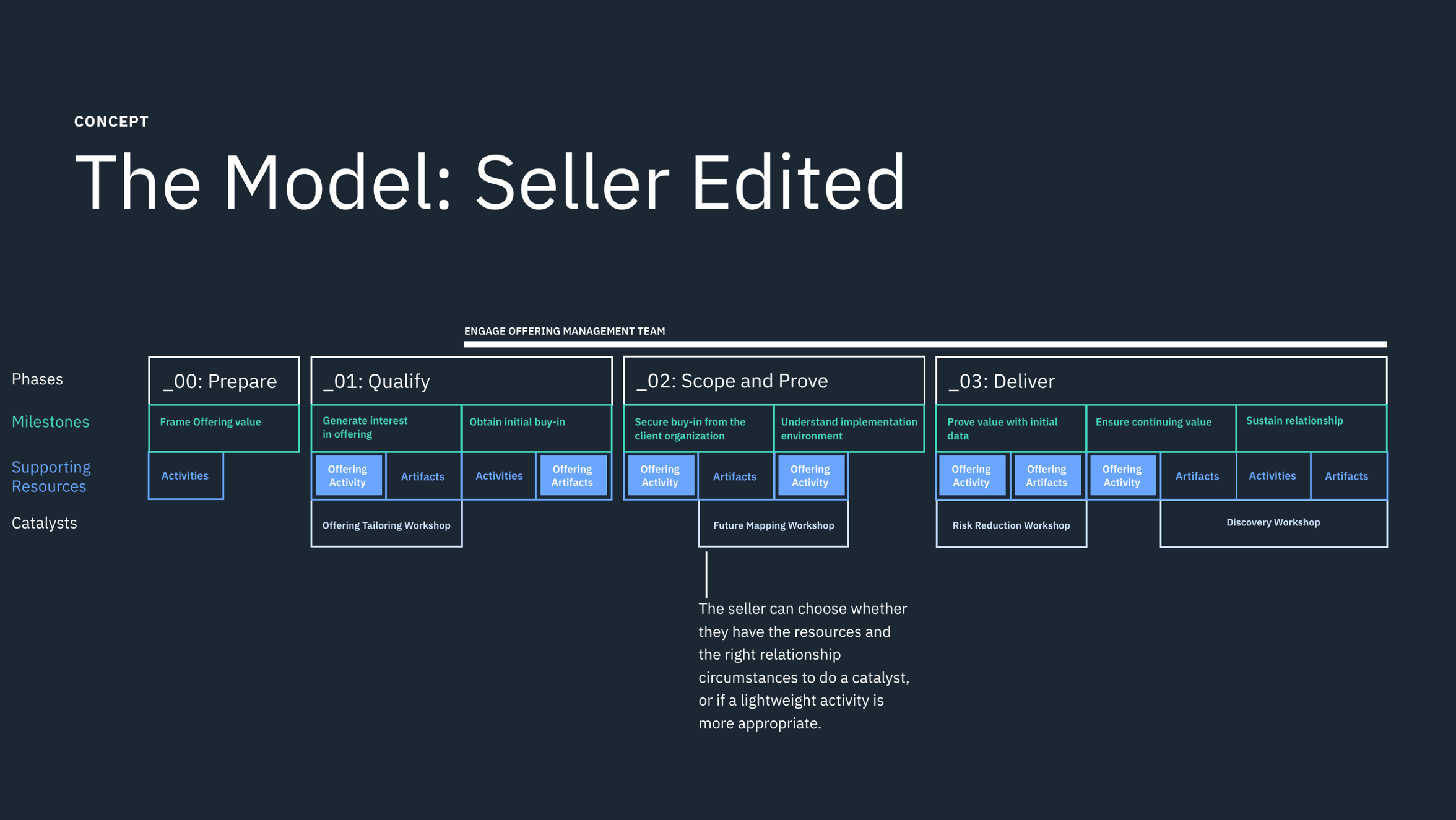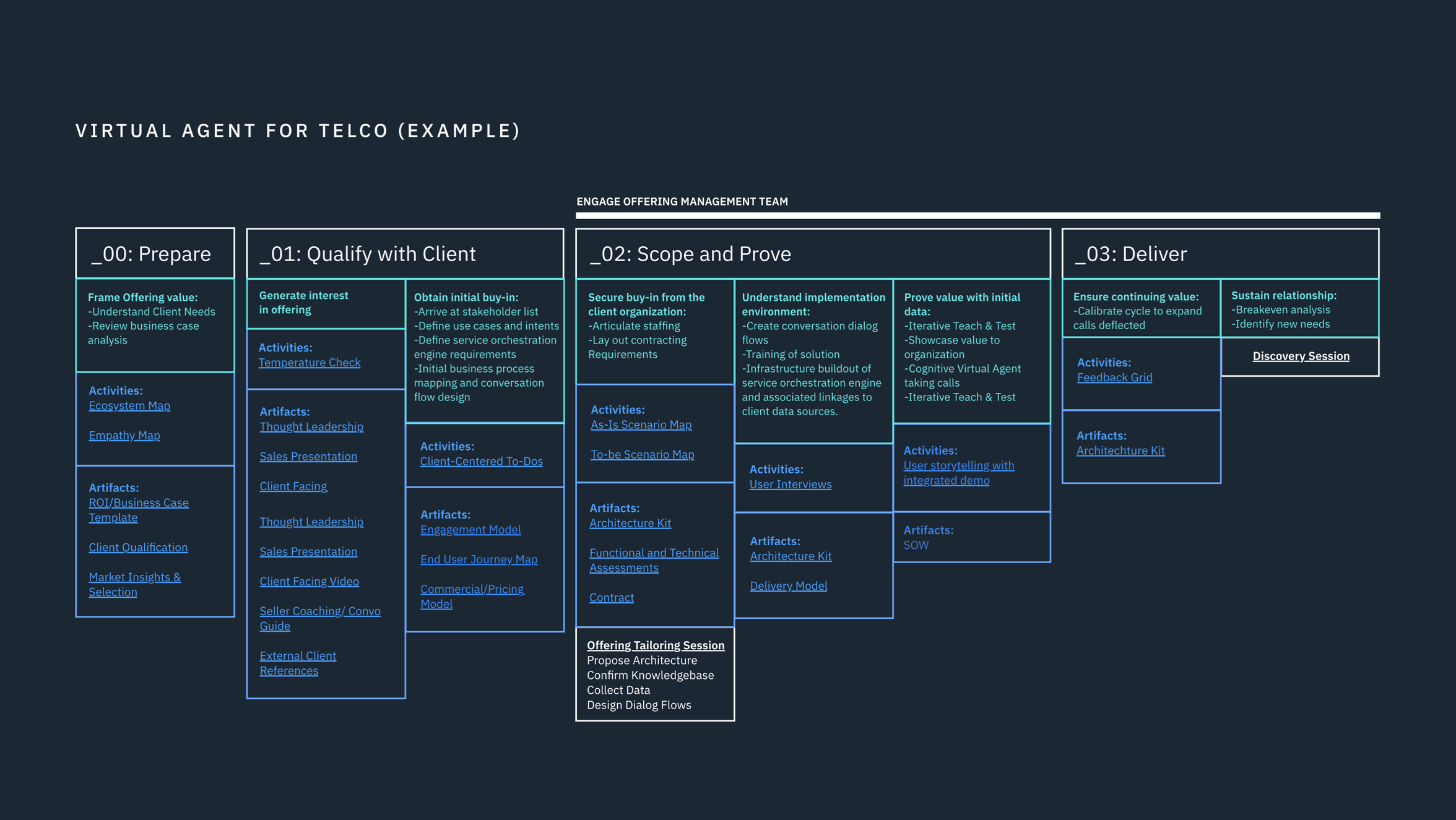 REGULARLY, I'M A WORKFLOW REMODELER
THE QUESTION
How might we reimagine the flow of work for Trade Finance?
THE DISCOVERY
From document collection, digitization and validation, to processing and payment, the Trade Finance process is overwhelmingly manual, completely unpredictable, wildly inconsistent, continuously changing, and generally siloed between the many players involved.
THE APPROACH
Assembled a team of Trade Finance experts, process consultants, experience designers and technical architects. Aligned on the process as executed today. Understood the pains, gaps and opportunities within the process. Brainstormed big ideas that provoked creative thinking. Envisioned the future workflow, as experienced across the main players. Architected the underlying drivers across process, talent, data and technology. Scoped and developed an outcome-focused MVP. Validated with experts and aligned with stakeholders at key points.
THE OUTCOME
A compelling Trade Finance Intelligent Workflow that featured cognitive data collection, verification and validation, proactive risk mitigation, transparent progress, opportunistic and pre-emptive alerts, real-time regulatory updates, business growth opportunities, among others. Expected to reduce cost per transaction by 50–75%, errors by 50%, average time to payment by 25% — then increase Trade Finance Officer productivity by 50%.
Also reimagined how work gets done within the Auto Claims, Mortgage Lending and Lead-to-cash processes — into compelling Intelligent Workflows.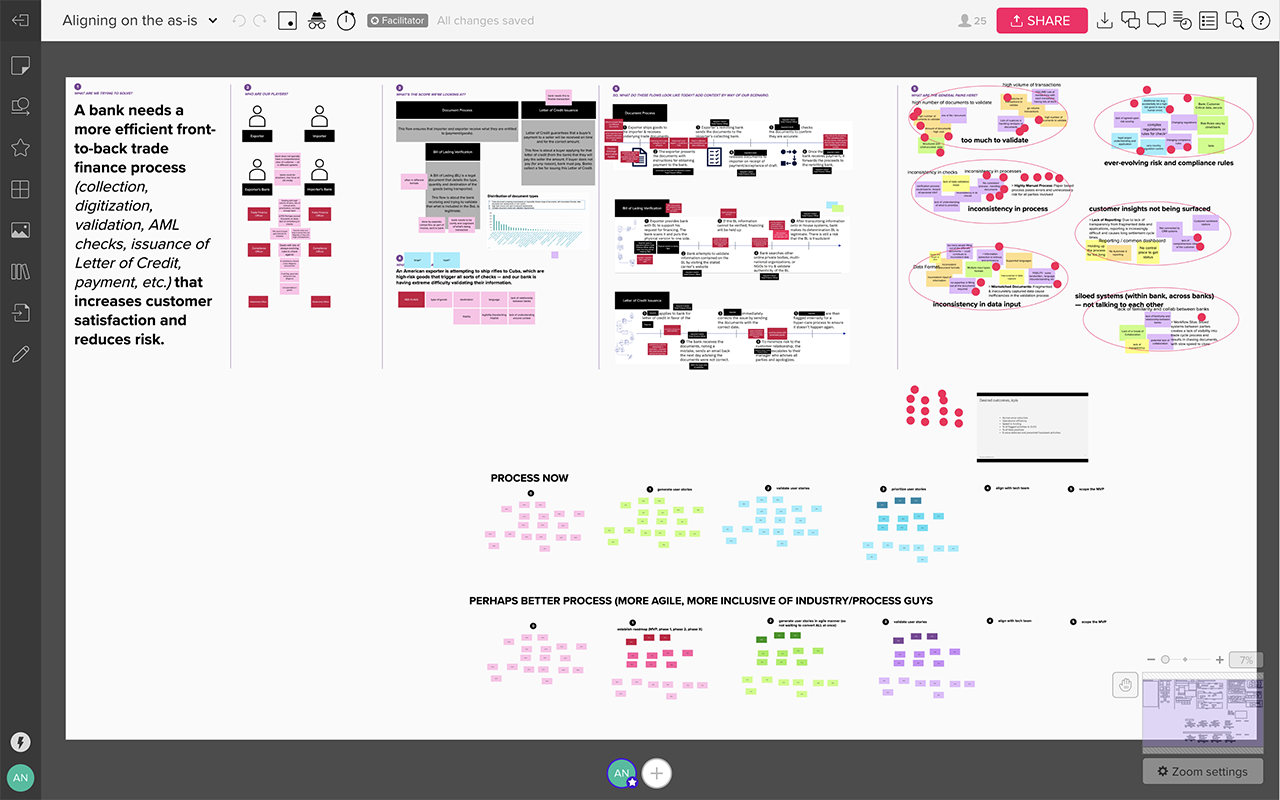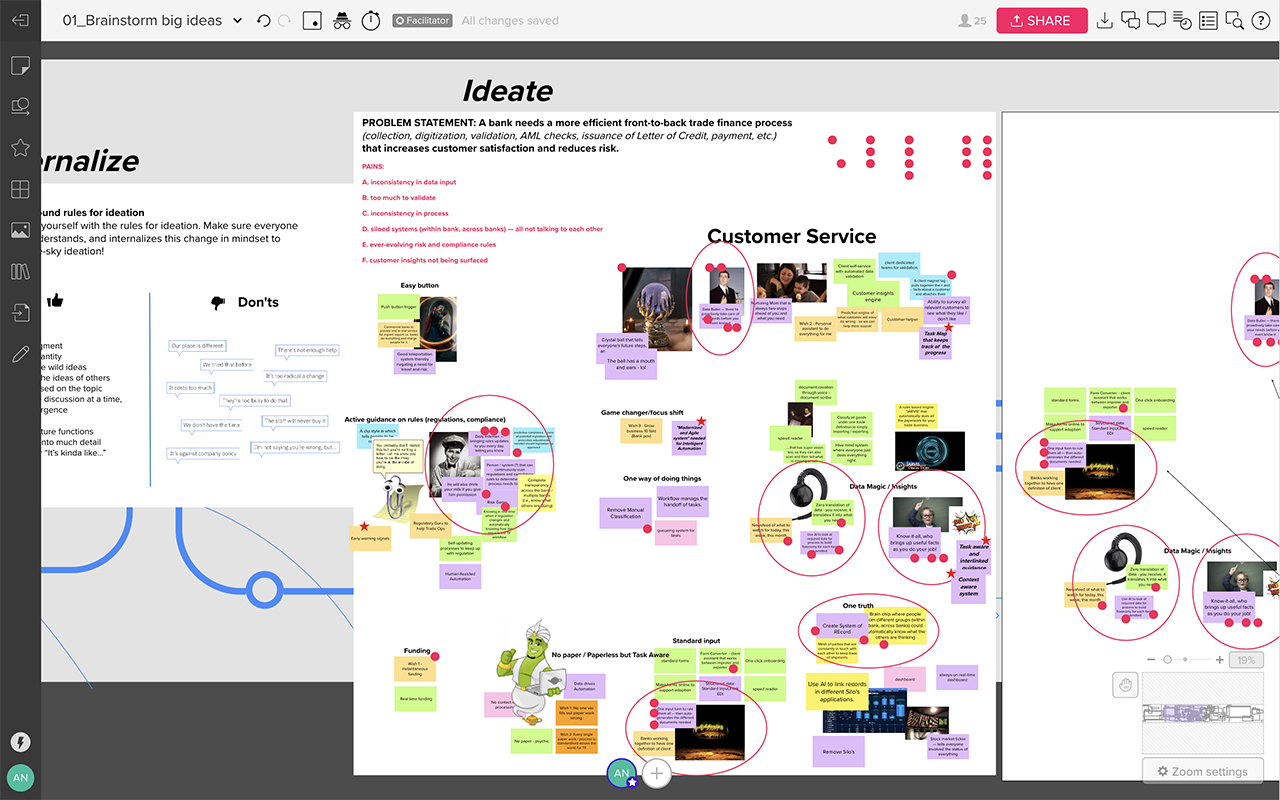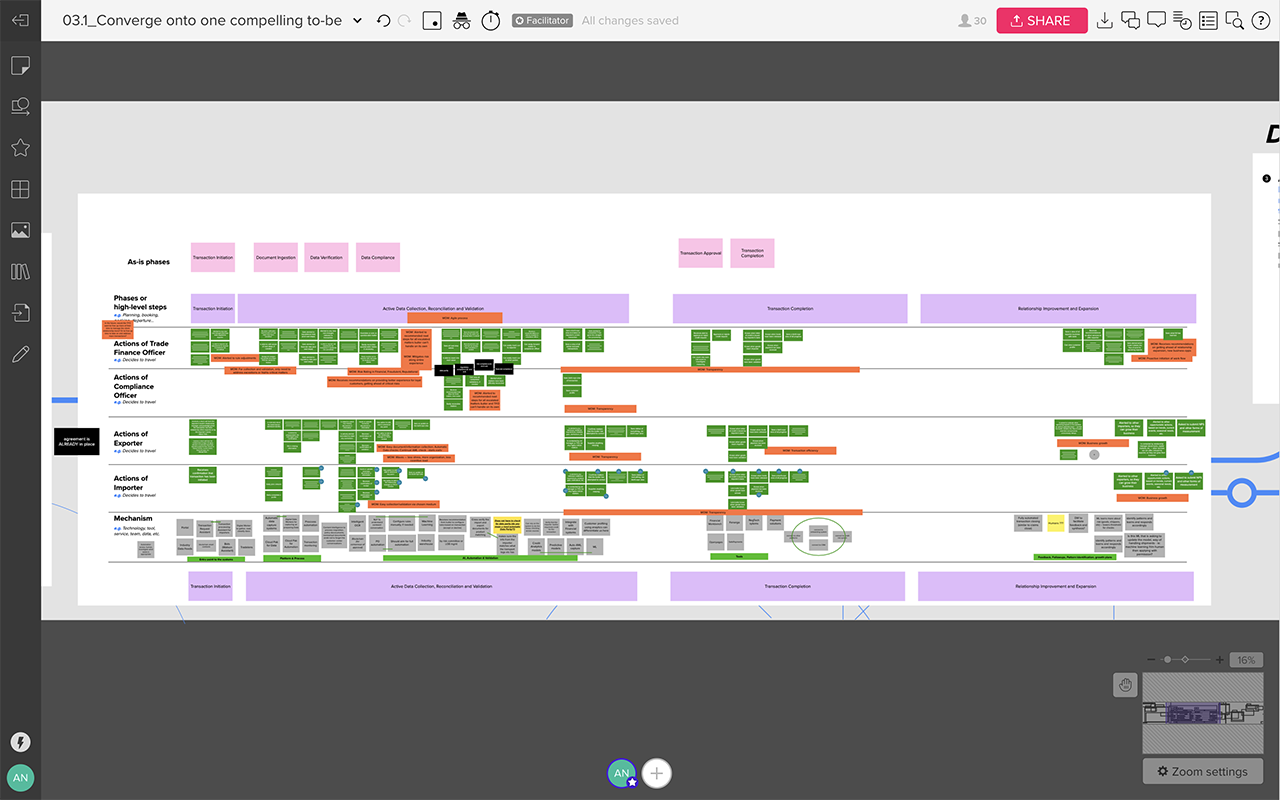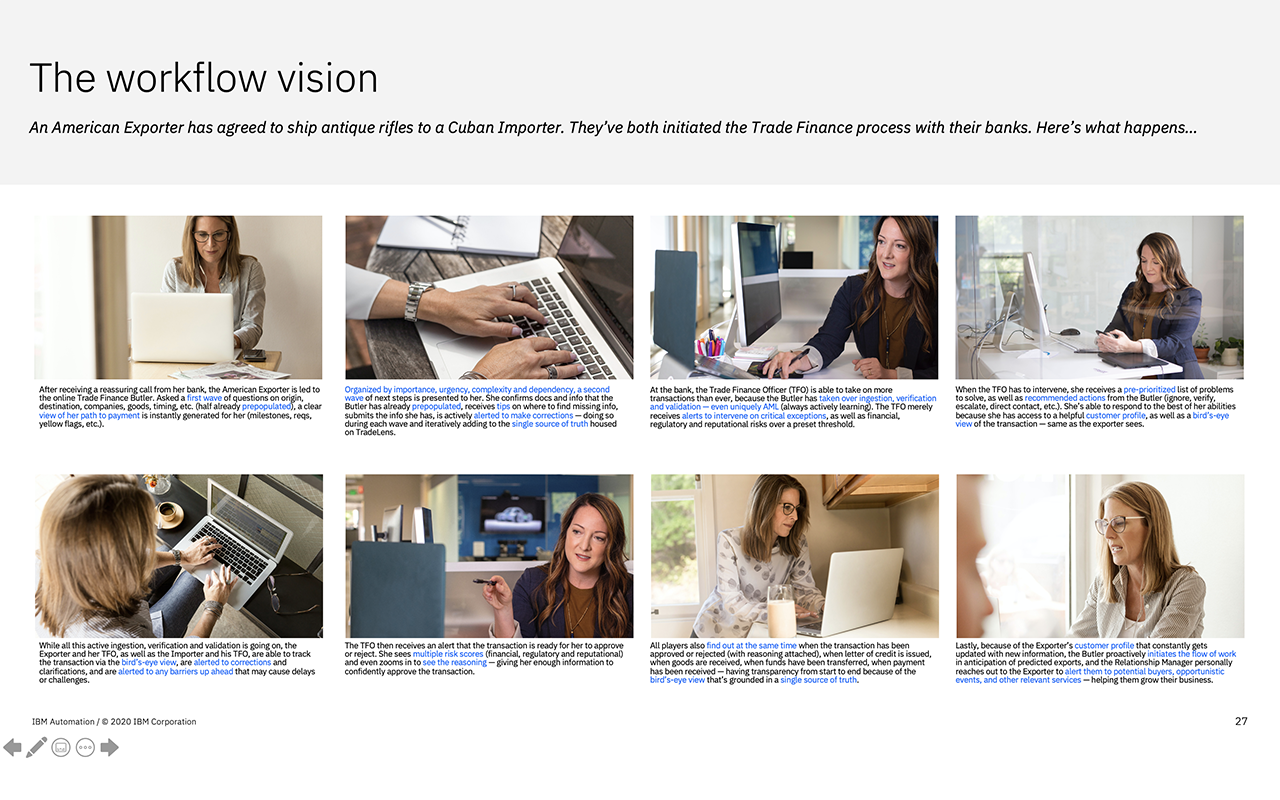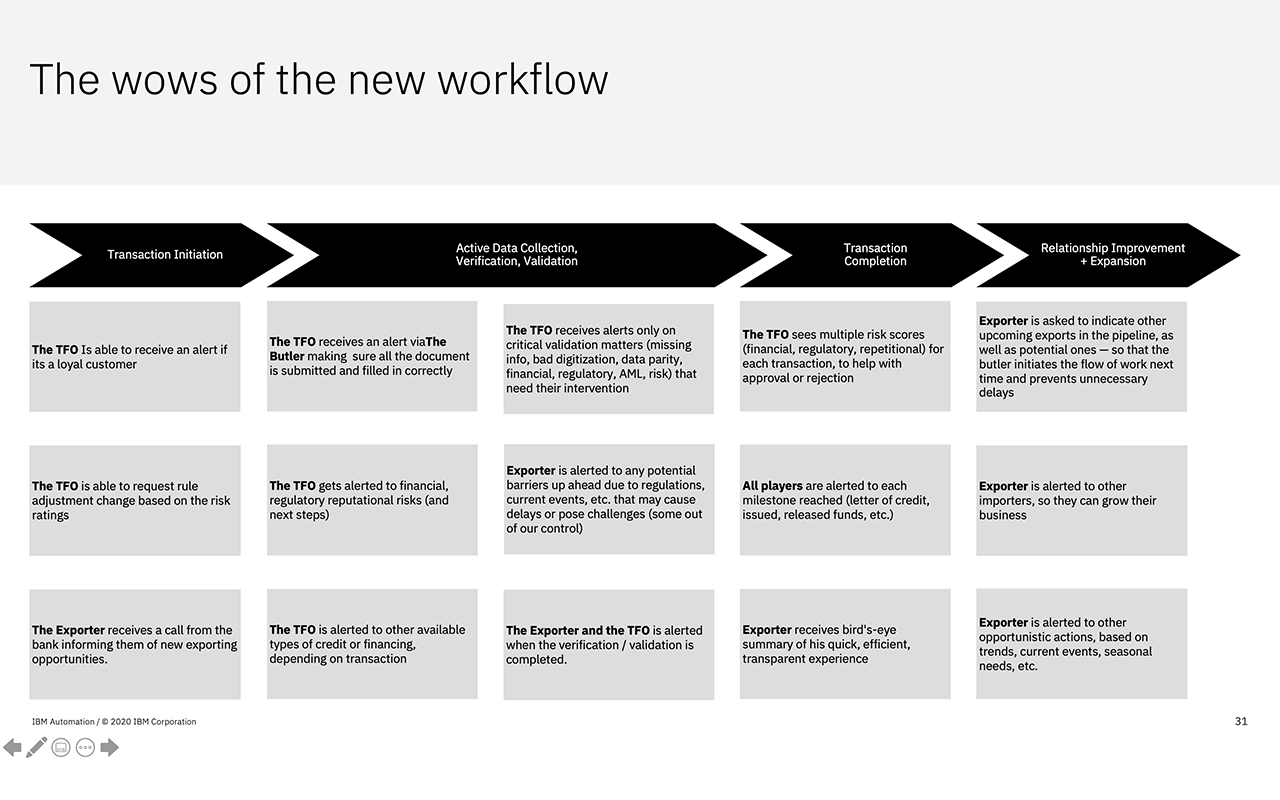 THE QUESTION
How might a large Middle East airline improve their IT operations?
THE DISCOVERY
It was the Wild West, basically. Everyone talking to everyone without organization or policing. Shadow IT everywhere. Resolution relied heavily on who you knew and, even then, was extremely slow and difficult to track.
THE APPROACH
Brought together often-conflicting IT and business groups from around the organization. Identified common and varying use cases to map the different ways work was done. Pinpointed pains, gaps and opportunities. Diverged to envision multiple futures. Converged into a single powerful vision. Roadmapped outcome-focused delivery. Outlined an action plan.
THE OUTCOME
A fully transformed operating model for the airline's IT org — structured, easy-to-follow, transparent, efficient, governed, agile, innovative. A $27M win for IBM.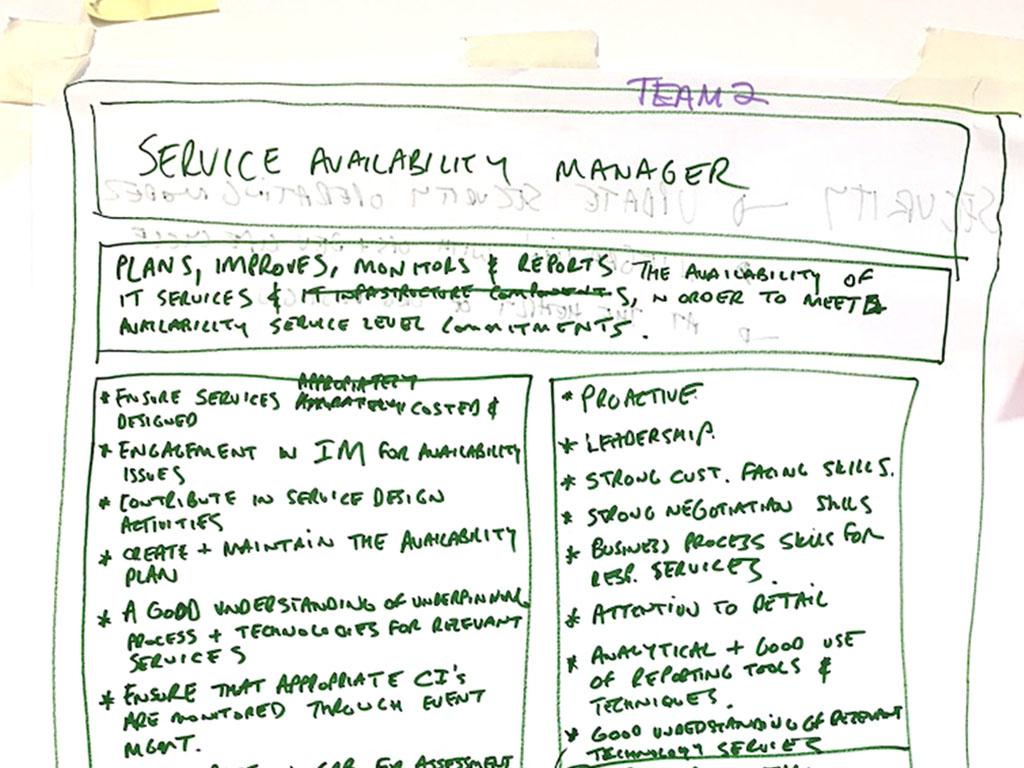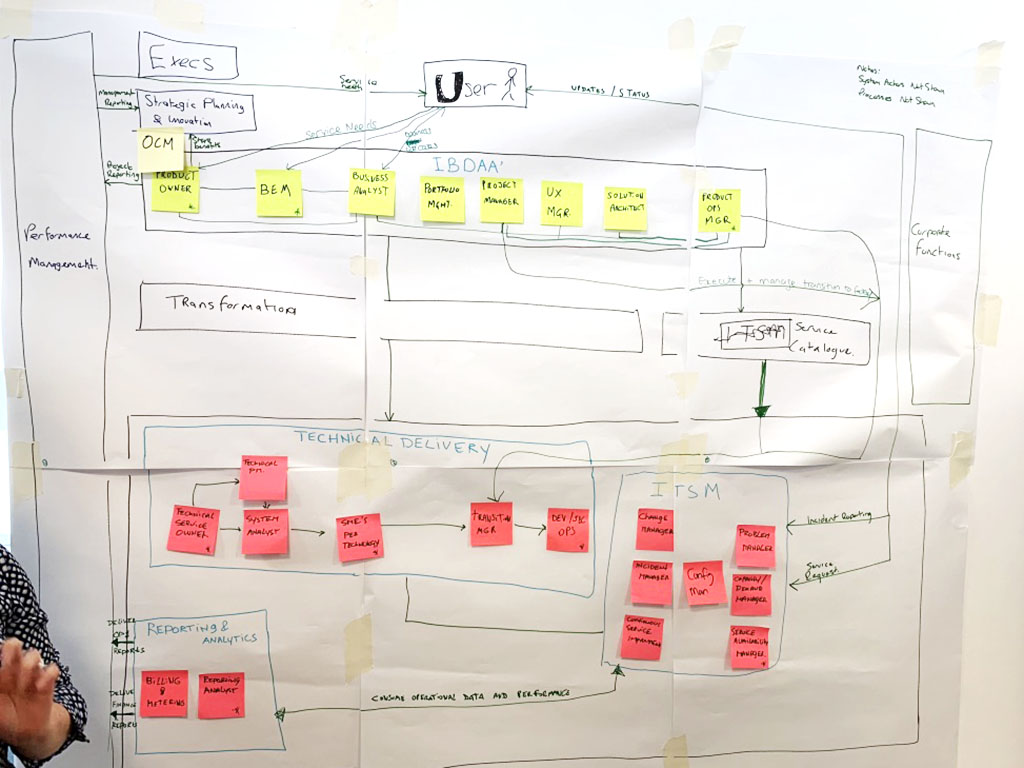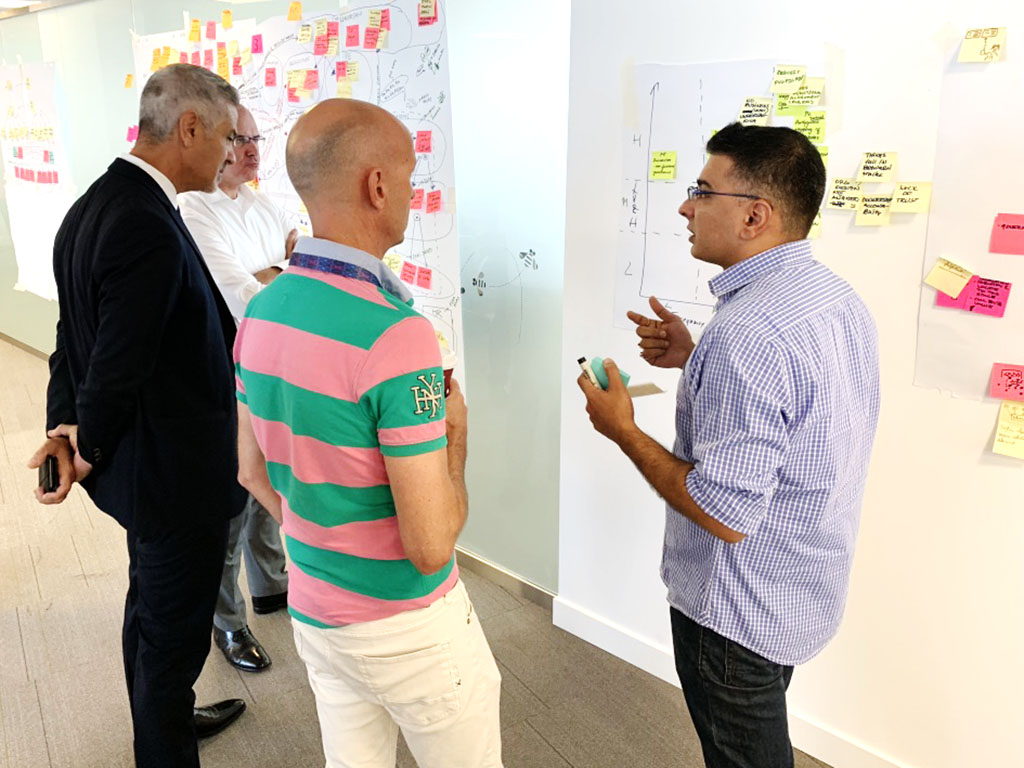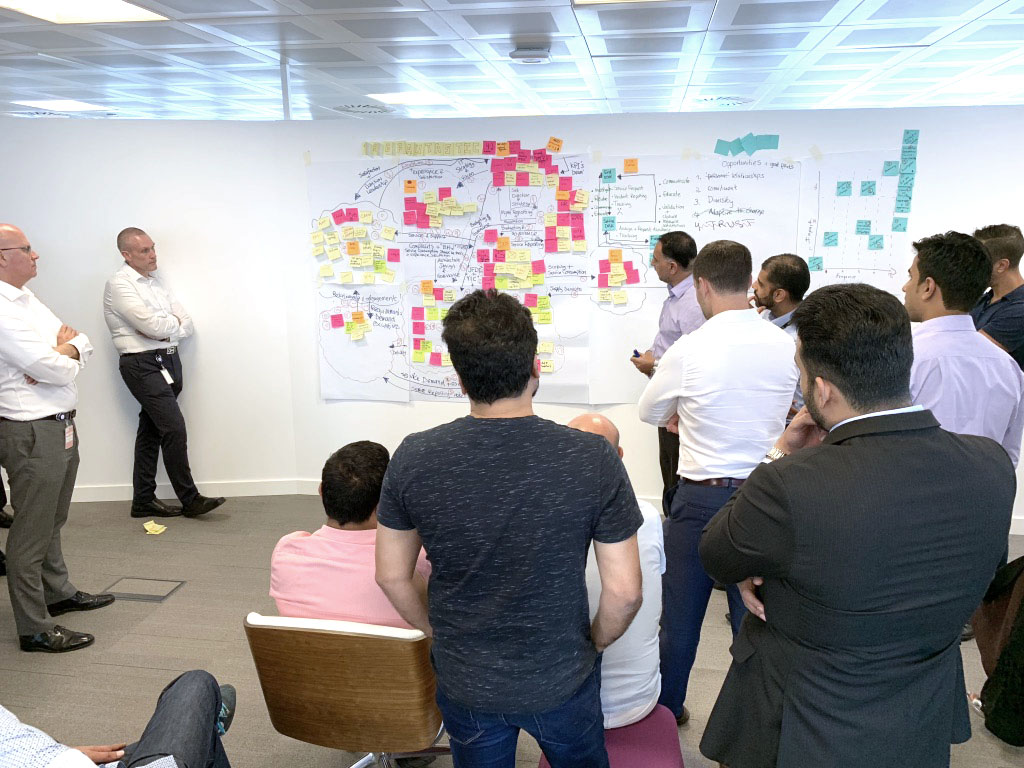 THE QUESTION
How might we free up the IT workforce for more meaningful work?
THE DISCOVERY
IBM was extremely motivated to build their first instance of software-based labor (called Digital Workers), testing the premise that this would liberate humans from mundane work. The strategy was to begin with IT roles.
THE APPROACH
Identified 10 IT roles to begin with (Application Developers, Application Consultants, Project Managers, among others). With flesh-and-blood representatives of each role present, assessed a pre-curated list of tasks — each accompanied by details around frequency, simplicity, standardization, repeatability and dependency. Prioritized tasks by user impact and technical feasibility. Scoped an outcome-focused MVP for each Digital Worker.
THE OUTCOME
Digital Workers for IT management, enabling a hybrid workforce that frees up humans for more meaningful work. Some reducing 1,000 hours of effort annually, these Digital Workers are now integral contributors to IBM's Intelligent Workflows.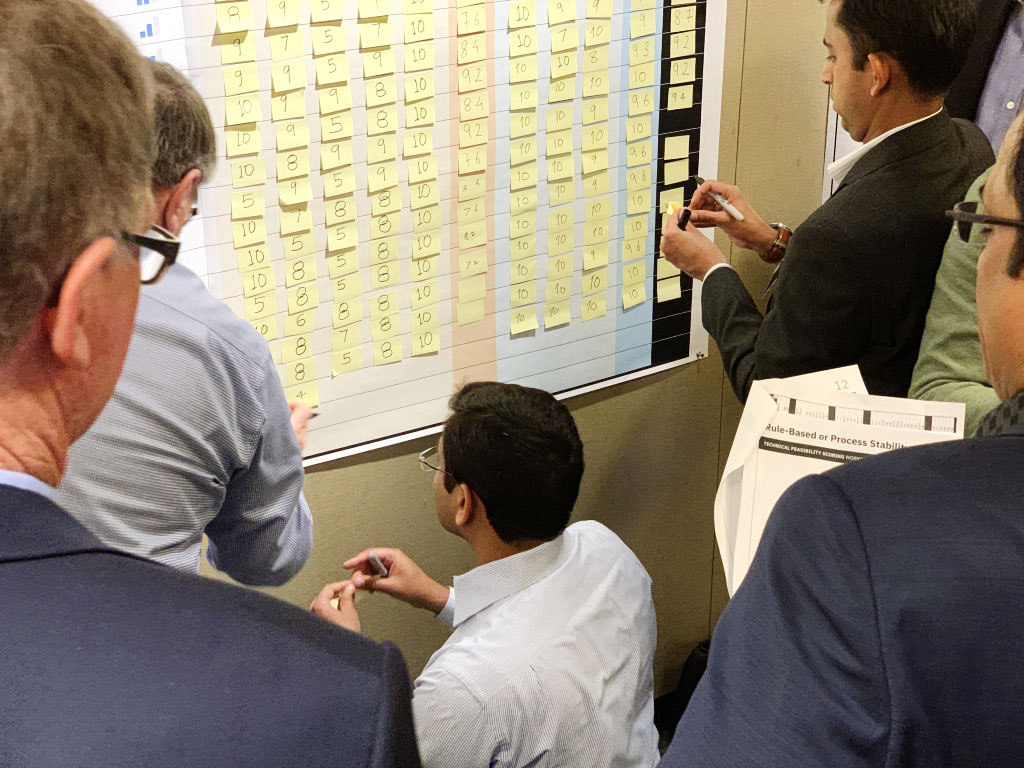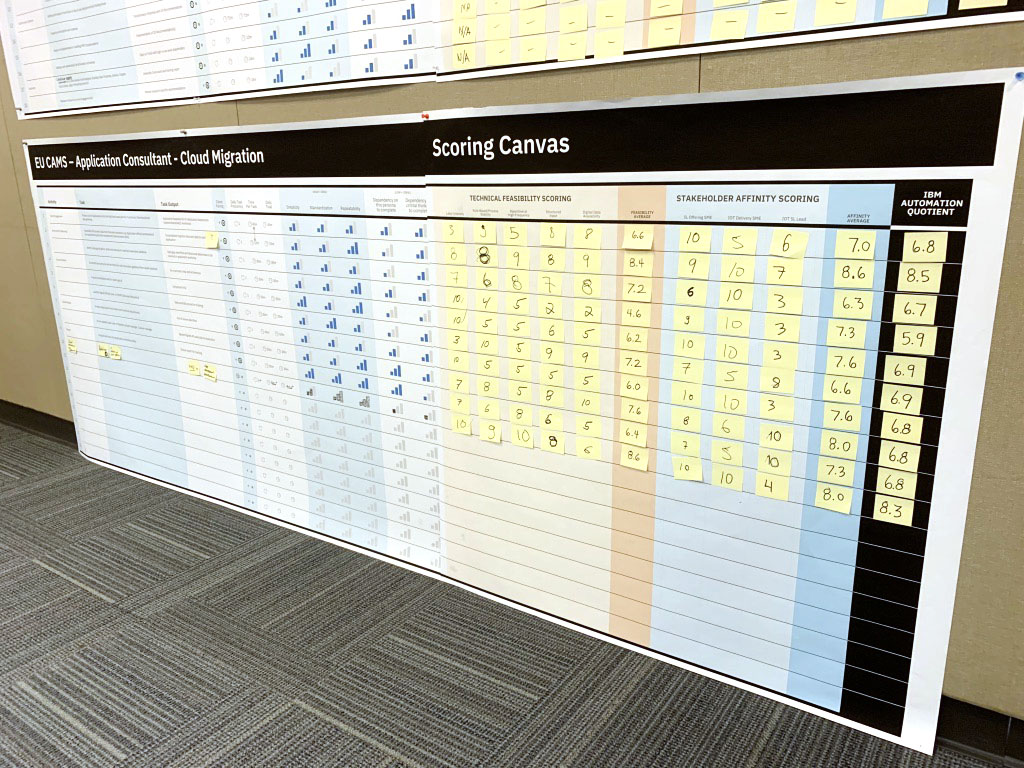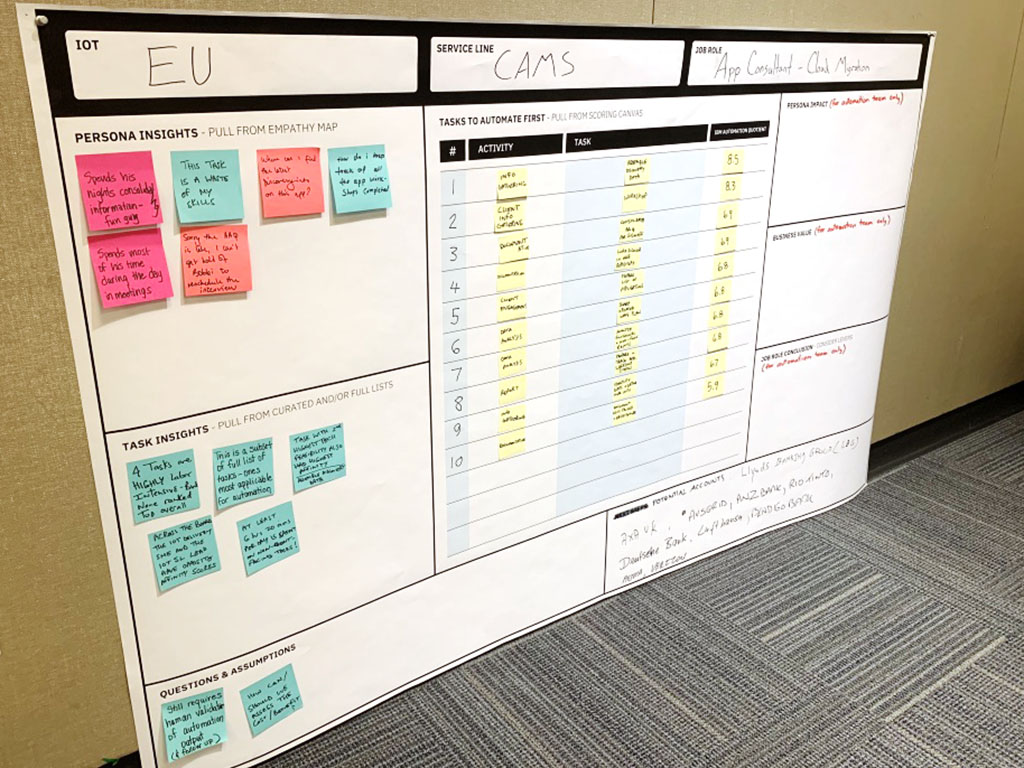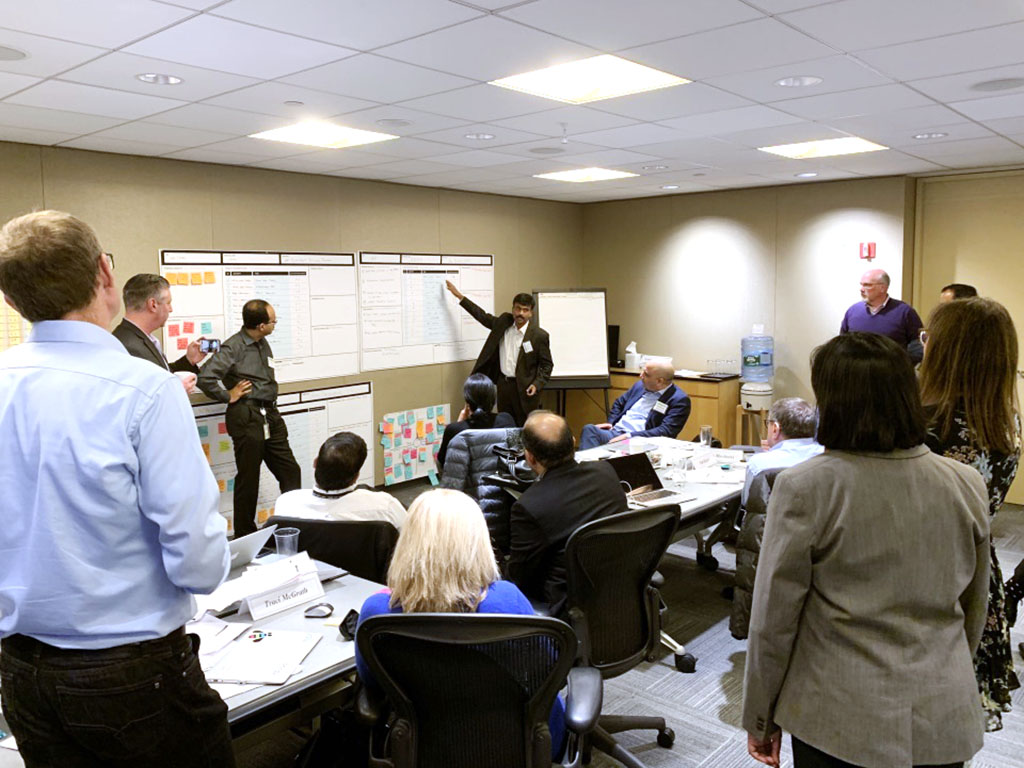 ALL THE TIME, I'M A DESIGN THINKING LEADER
THE QUESTION
How might we make Enterprise Design Thinking relevant beyond the product realm?
THE DISCOVERY
Enterprise Design Thinking was initially established to return intent and innovation to IBM's products. Connecting the dots between the framework and the consulting and services spaces hadn't been broached.
THE APPROACH
As part of the core team that was tasked with bridging the gap, we repeatedly tested, in front of clients, how the framework was positioned, articulated, learned and applied. Surfaced plenty of its shortcomings — everything from perceived irrelevancy and gooeyness to the framework's inward focus and design snobbiness. Reinvented and, until this day, continuously iterating on how the framework is carefully explained to those outside the product world.
THE OUTCOME
A framework that now features much-needed clarity, approachability, relevance, resonance, flexibility and applicability. And one that practices what it preaches, focusing more on the people using it rather than inwardly on itself — helping everyone more easily understand and re-articulate the value of applying Enterprise Design Thinking. Basically, a more natural connecting of the dots for everyone.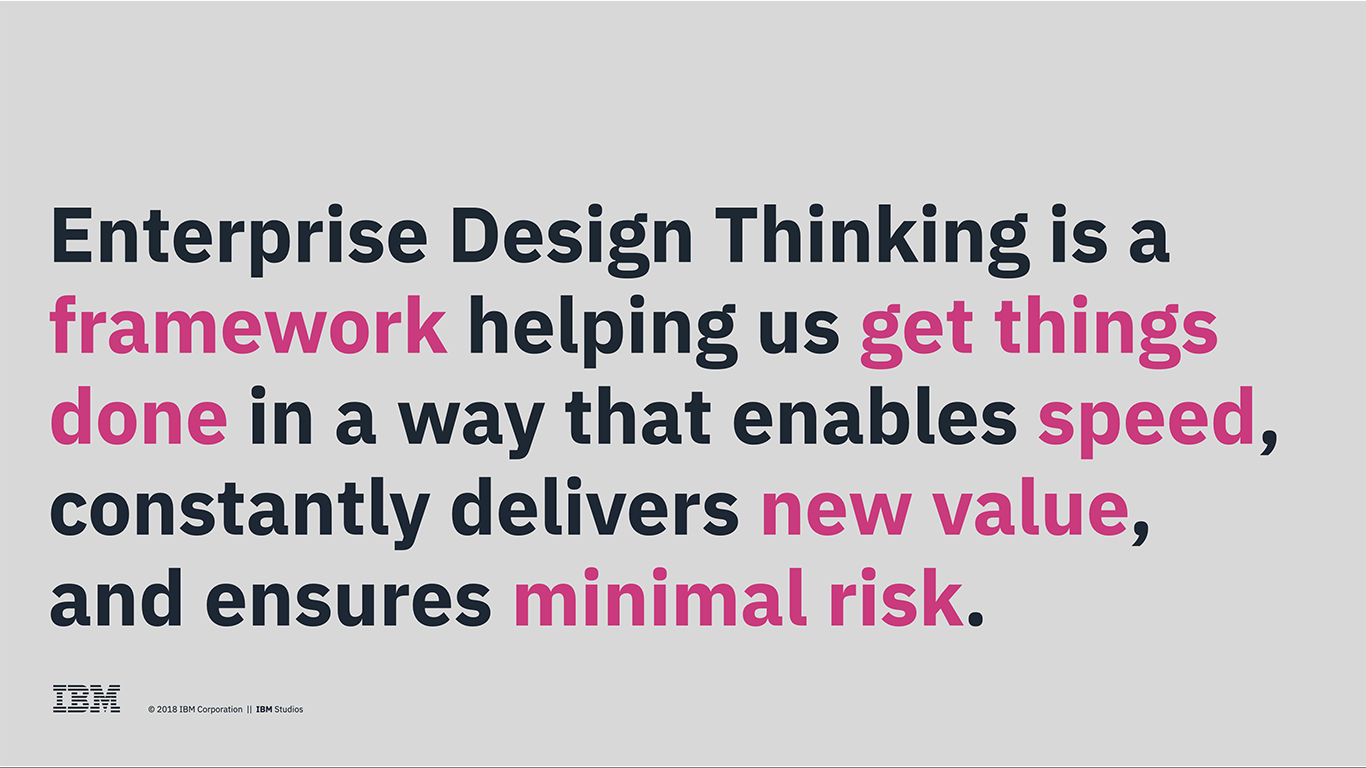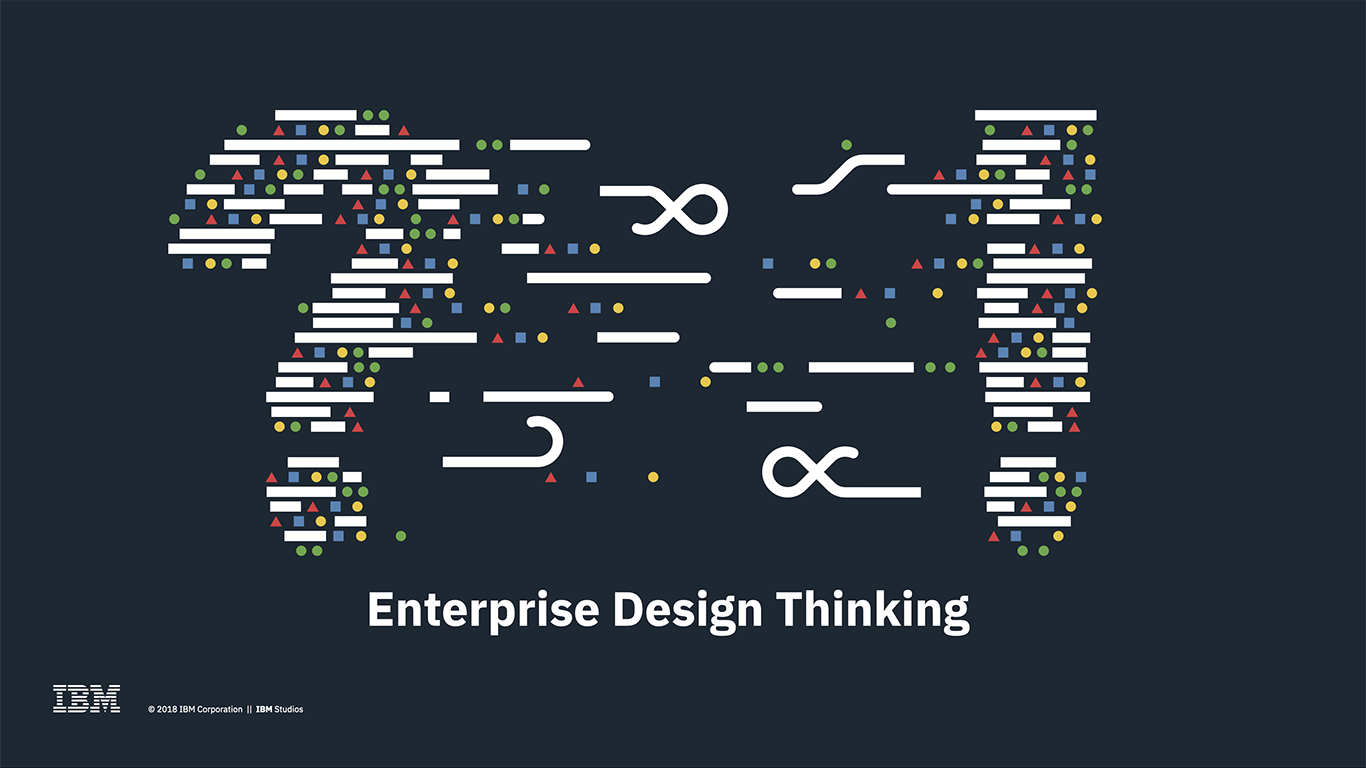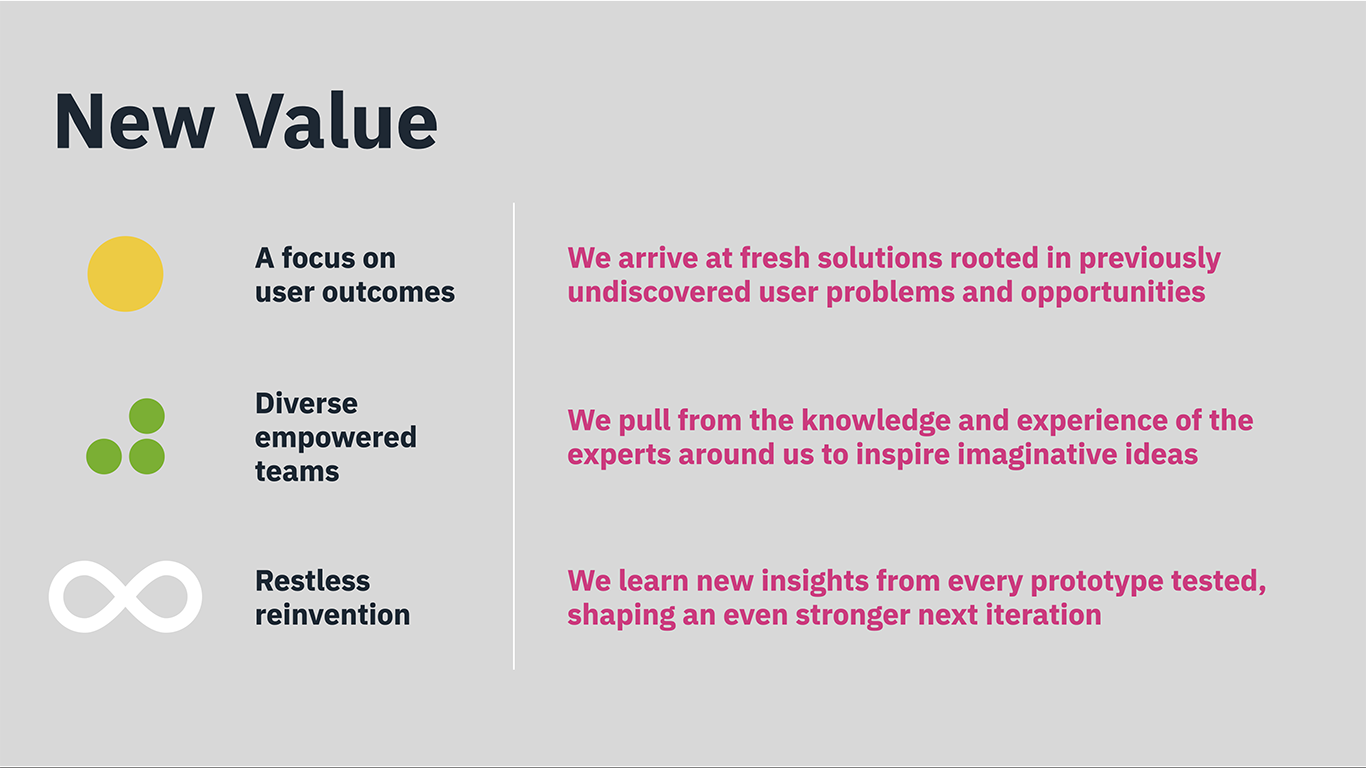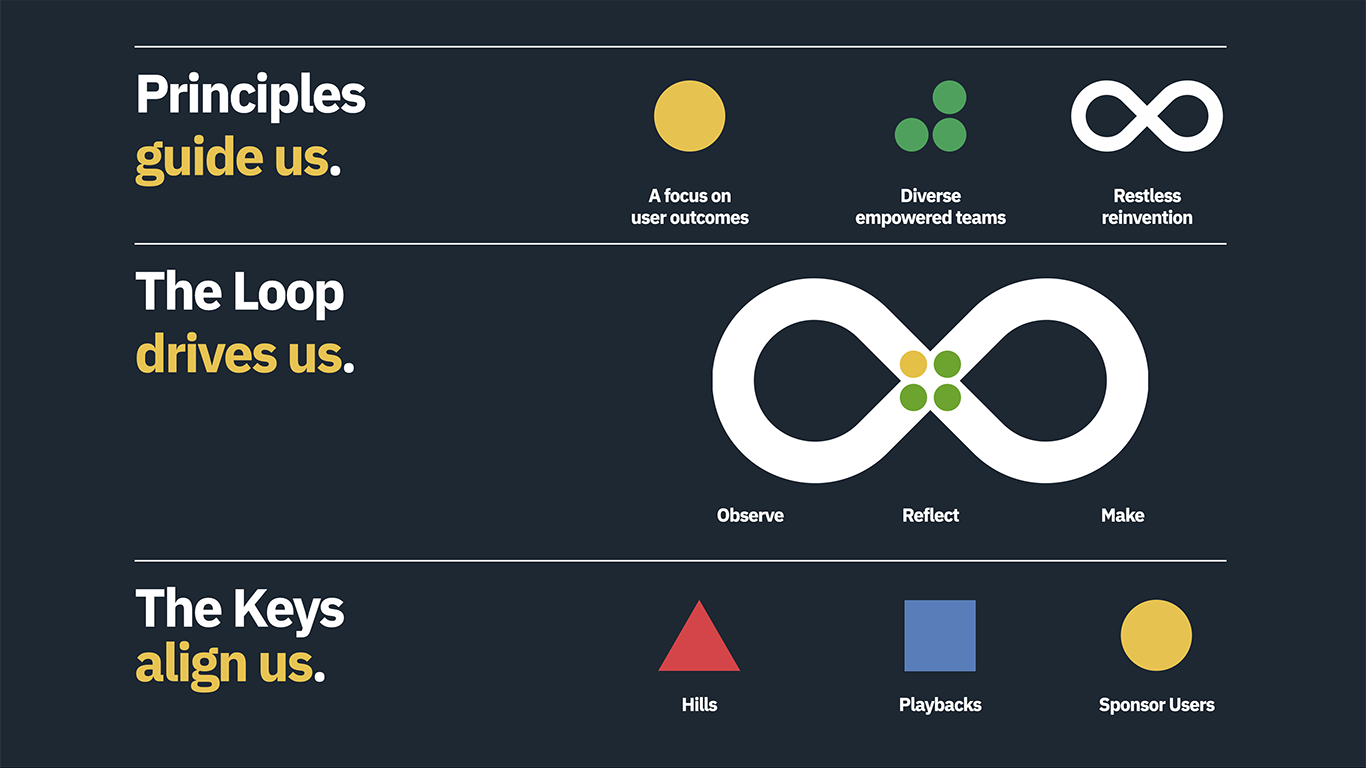 THE QUESTION
How might we make it easier for nondesigners and beginners to actively apply Enterprise Design Thinking?
THE DISCOVERY
After experiencing the framework for the first time, most nondesigners and beginners become infatuated with it — but then don't go any further.
THE APPROACH
Uncovered that nondesigners and beginners find it challenging to begin experimenting with the framework because of hesitancy, miscomprehension, discomfort, confusion, intimidation or skepticism. Rapidly prototyped, tested and iterated on a way to proactively battle these concerns.
THE OUTCOME
A formulaic, packaged set of exercises and techniques to help even the least experienced practitioners confidently "Enter the Loop" of Enterprise Design Thinking. To translate challenges and tasks into something the framework can immediately be applied to. No matter what's being worked on and how far it's progressed. Enabling all to simply jump in and apply the framework without reservation.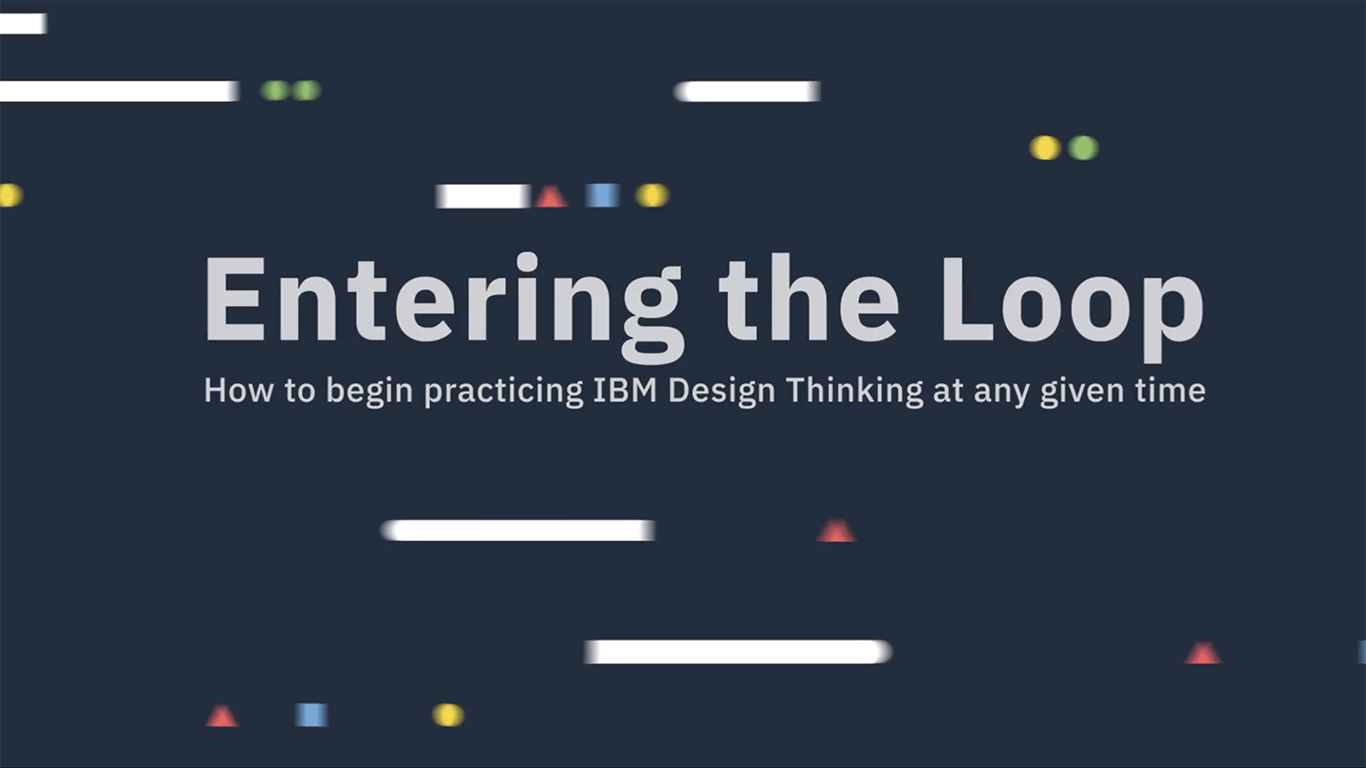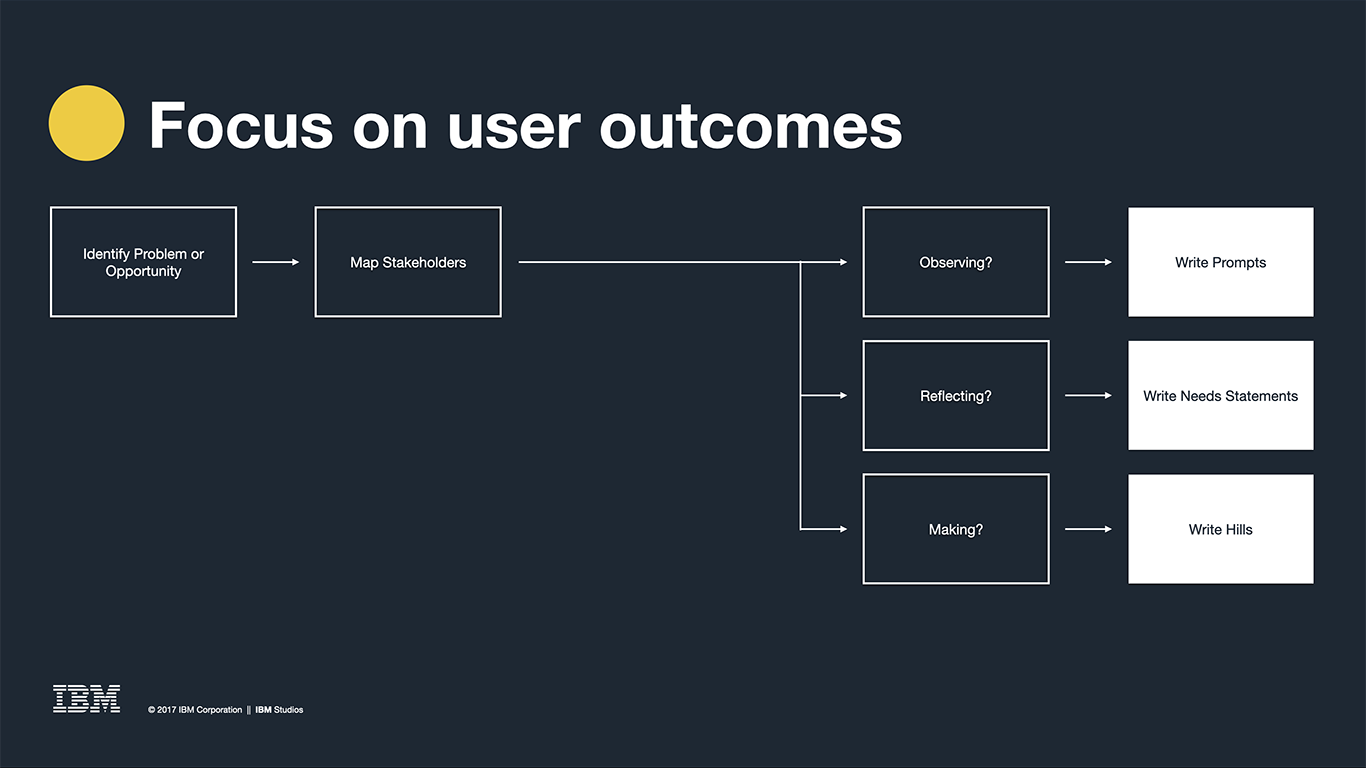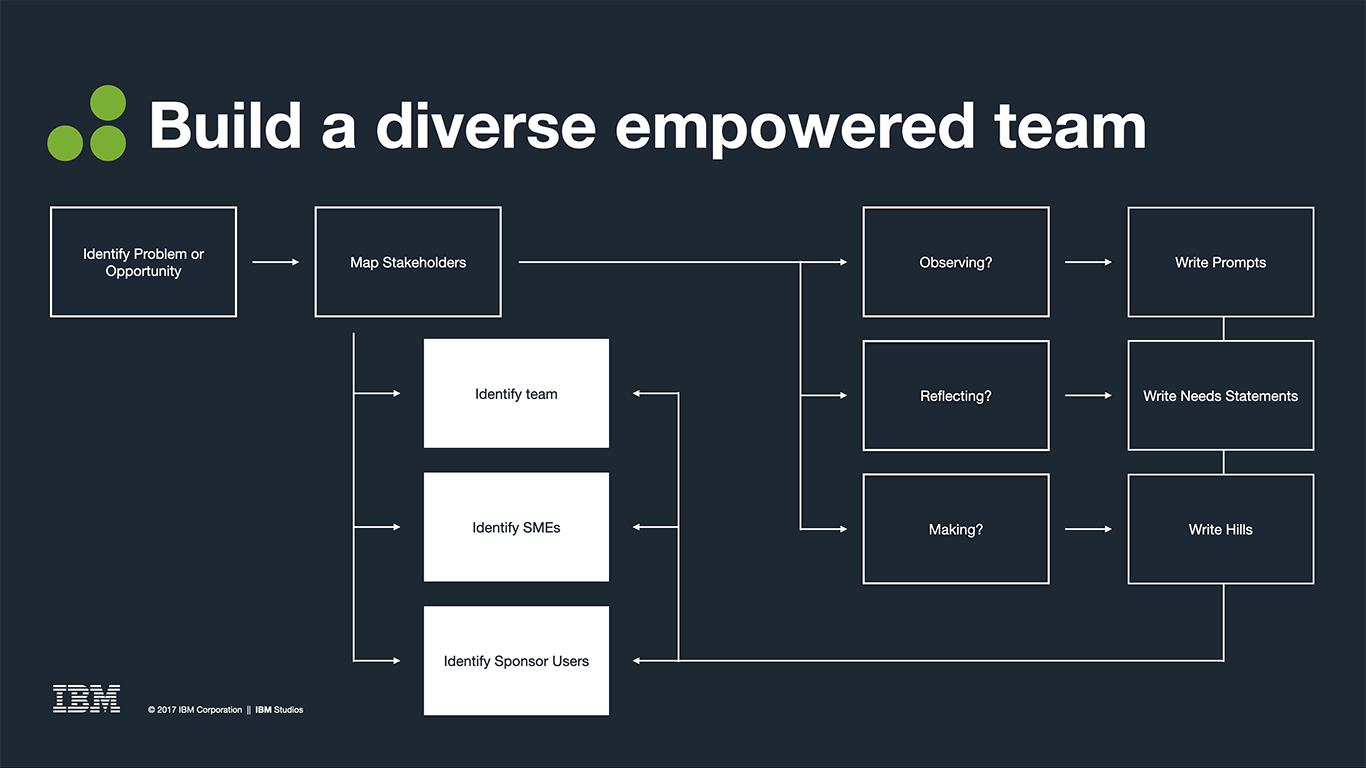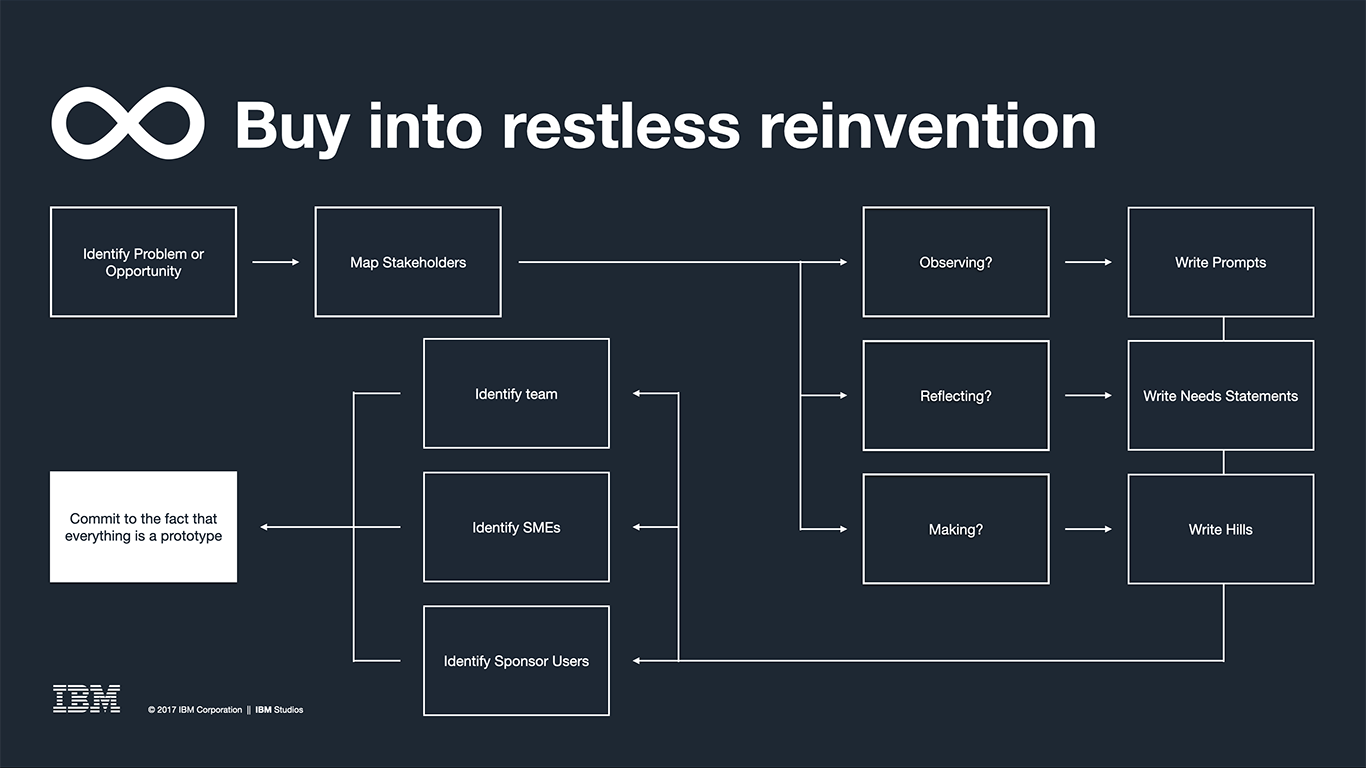 THE QUESTION
How might we best articulate the integration of Design Thinking, Agile and DevOps?
THE DISCOVERY
All three practices are ways of working. But IBMers were confused with which to use where, when and how — especially since they each shared overlapping principles. For some, this lack of understanding and perceived redundancy stood in the way of adopting the human-centered ways of Design Thinking.
THE APPROACH
Interviewed both folks who were confused about the integration and folks who had complete clarity, in addition to respected experts from all three practices. Prototyped and iterated on not only how the three practices worked together, but also how to easily explain this integration to those most confused.
THE OUTCOME
A now widely used POV on how Enterprise Design Thinking, Agile and DevOps come together to drive the most compelling outcomes. Specifically, the role and intent of each, how they work together, an action plan template to operationalize all three, and a simple, colloquial way to re-articulate the integration to others:
Enterprise Design Thinking helps us figure out what to do, Agile helps us realize how to do it, DevOps provides the latest feedback to help us adjust what we do and rapidly implement what we achieve.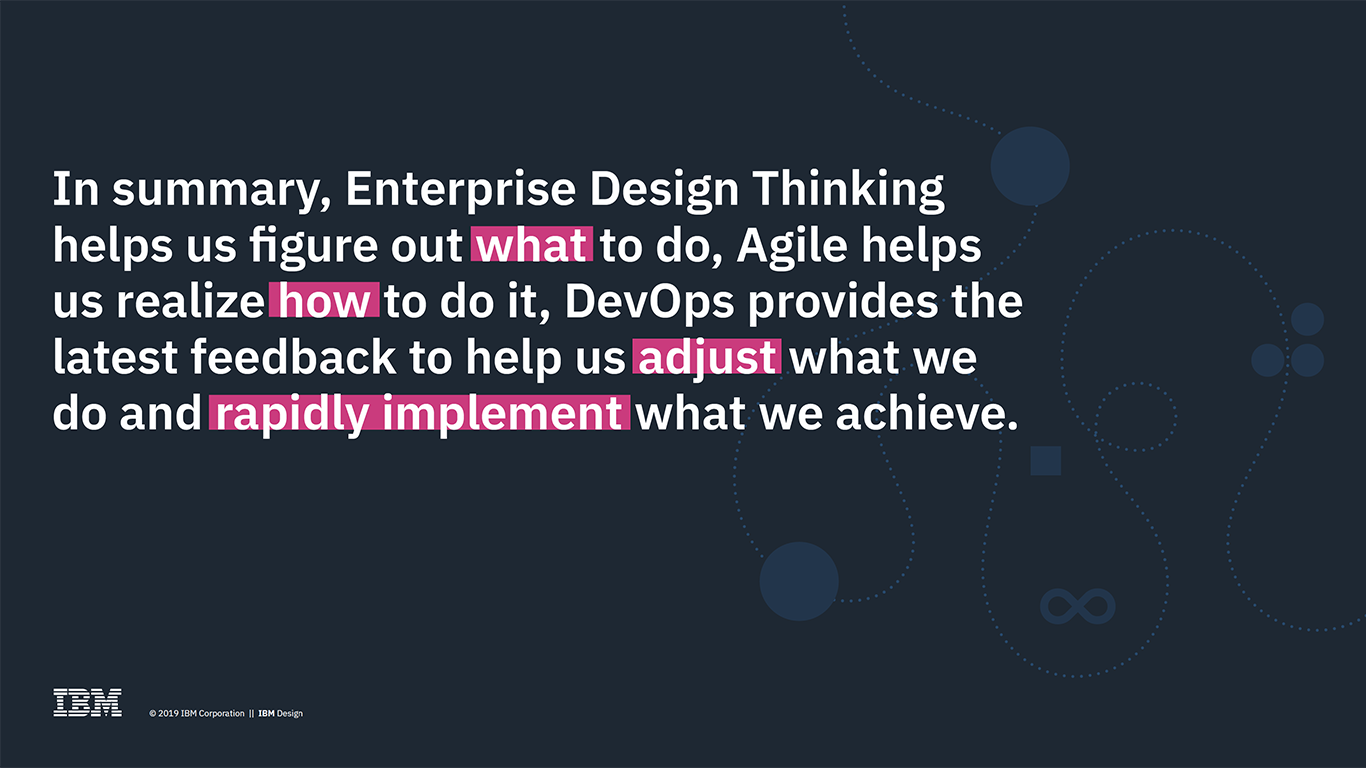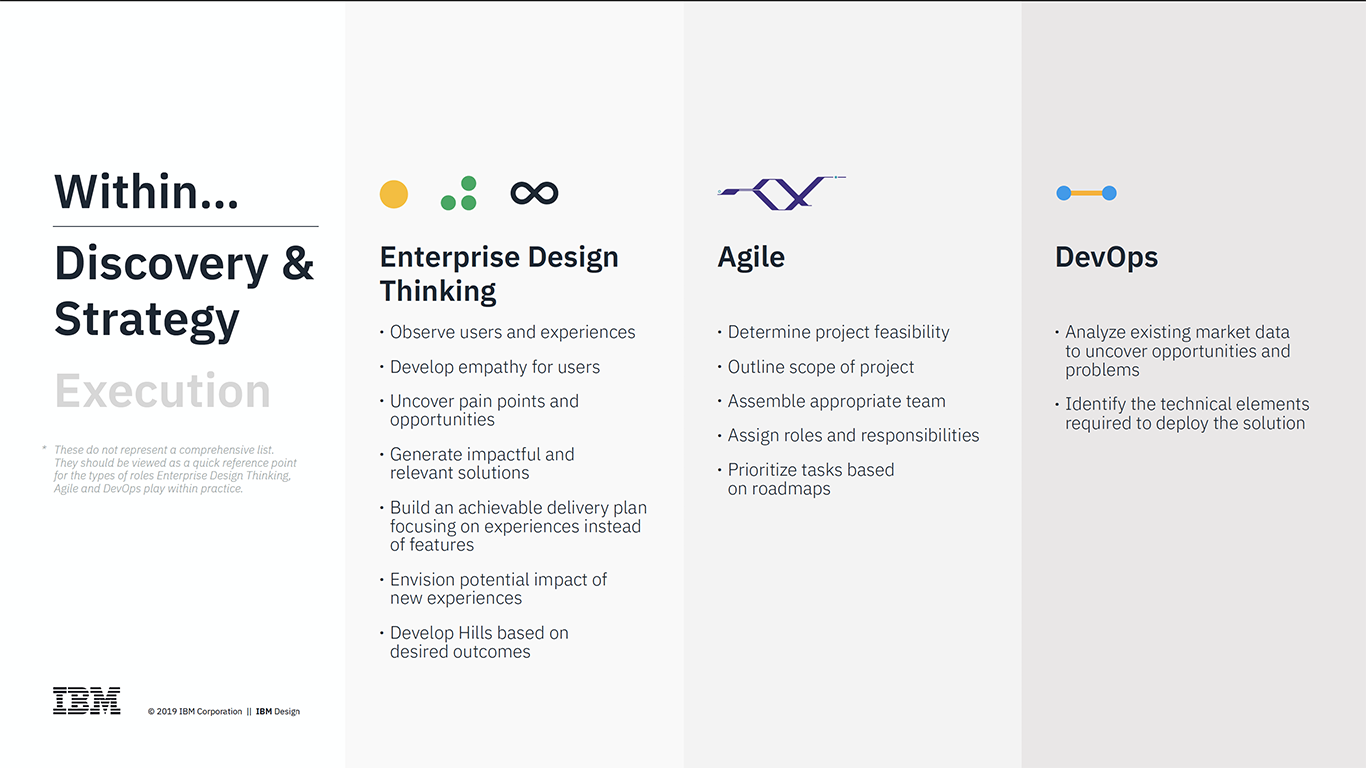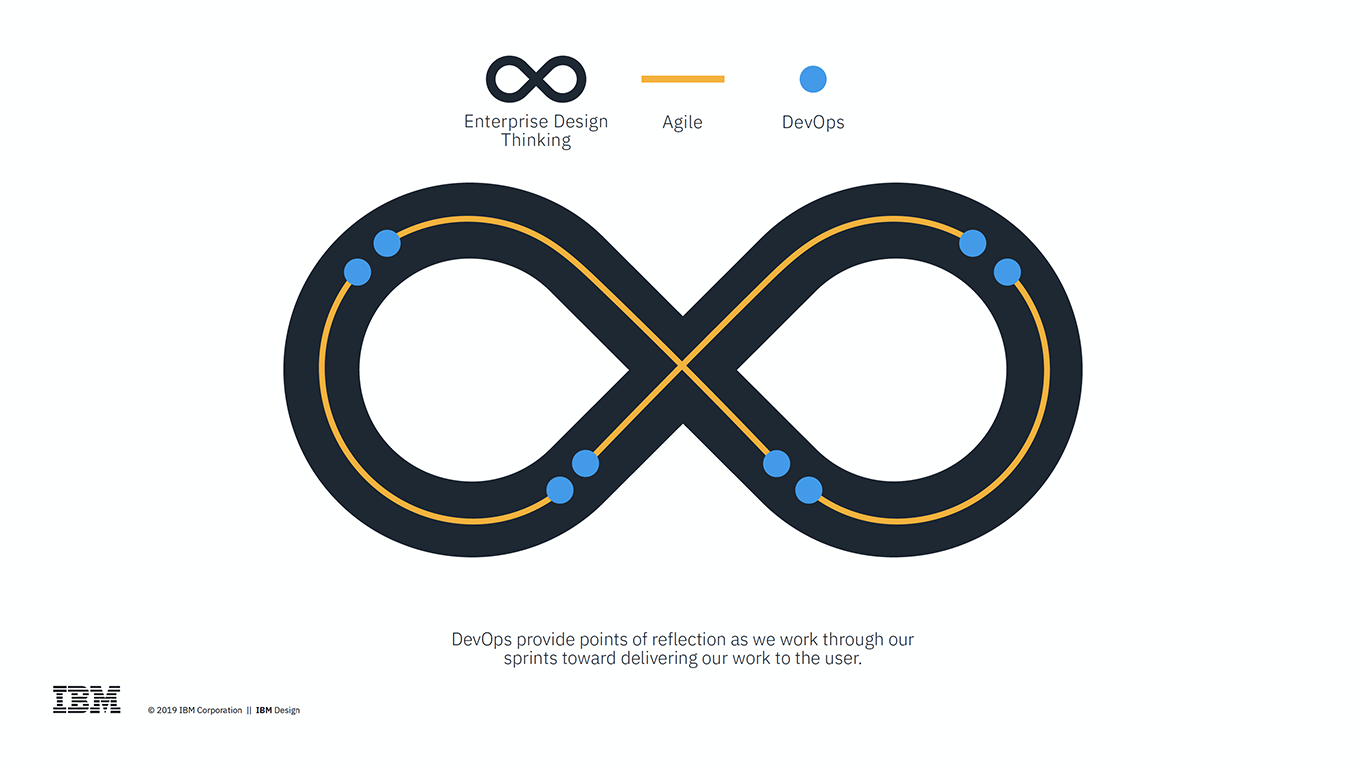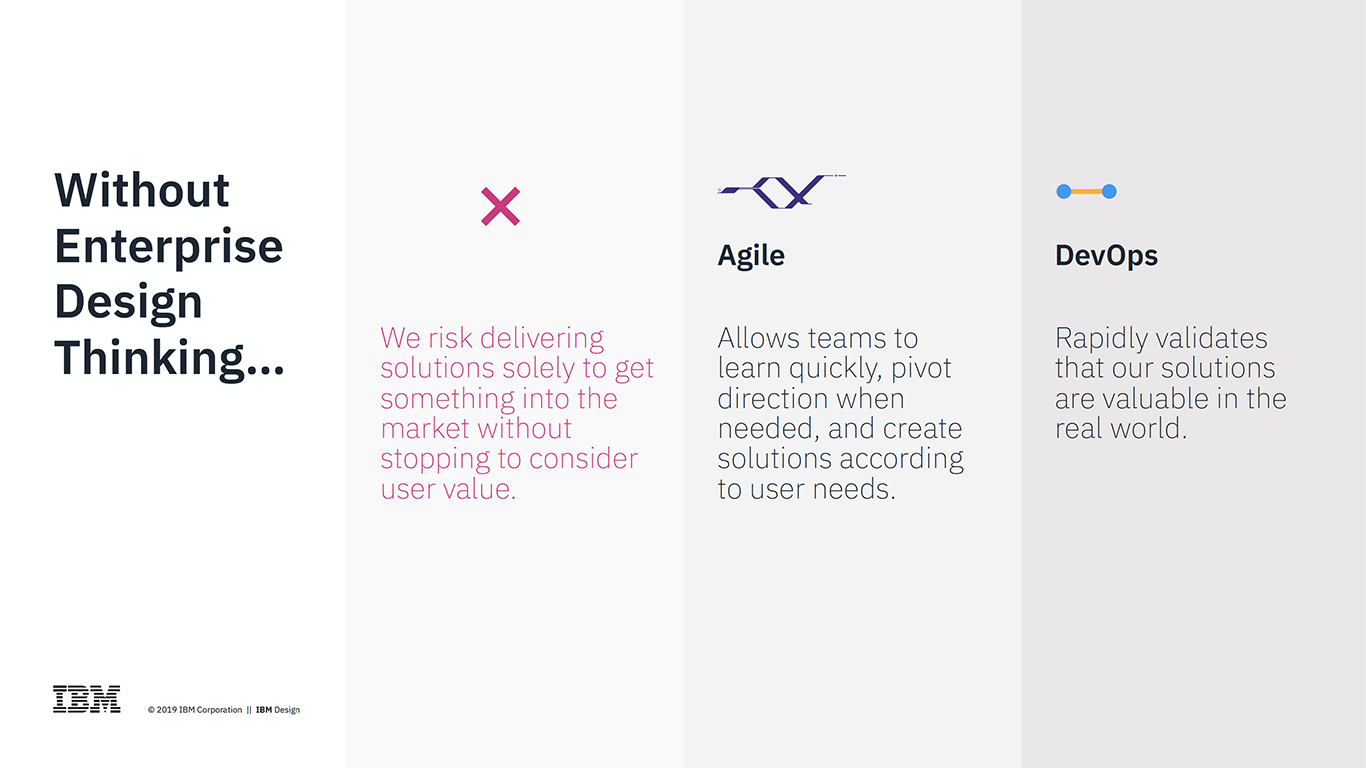 I often lead — and welcome with open arms — complicated global challenges. My default nomadic way of life, spending every quarter in a new city, uniquely equips me to take on the travel demands and lengthy remote spells usually required.
MY PATH SO FAR
Director, Experience Design

Rocket Central
2022–Present
VP, Experience Design
Goods & Services
2021–2022
Global Design Strategist
and Enterprise Design Thinking Leader
IBM
2016–2021
Creative Director
Multiple Advertising Agencies
2012–2016
Copywriter
Multiple Advertising Agencies
2005–2012
MY CLIENT PARTNERS
Consumer
2K Games
Best Buy
The Kraft Heinz Company
Wawa
Education
Pearson
Regent University
Texas School for the Deaf
Finance
Chubb
PayPal
PNC Bank
Raymond James
Healthcare
Aetna
Florida Hospital
Oil & Gas
BP
Shell
Tech
AMD
Dell
Microsoft
Teradata
Telecom
AT&T
Cablevision
Telstra
Verizon
Travel
American Airlines
Etihad Airways
La Quinta
Southwest Airlines
Among others